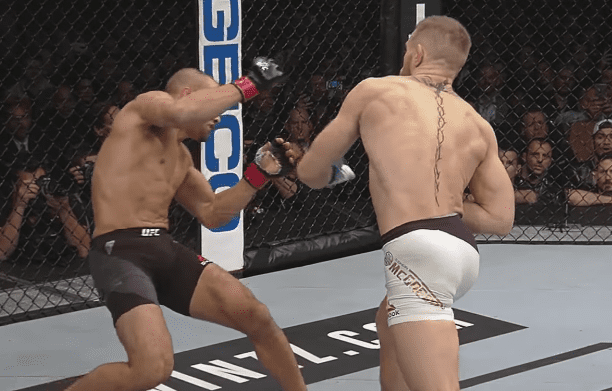 At UFC 205, Eddie Alvarez lost his UFC lightweight title to Conor McGregor. Despite feeling as if his own performance was as much to blame for the defeat as McGregor's skills, unlike several other of the Irishman's opponents, Alvarez has had nothing but praise for McGregor.
Speaking on Chael Sonnen's podcast "You're Welcome!", Alvarez spoke on what it was that McGregor did well, and what exactly it was about the strikes that made them land — including that infamous left hand.
"He don't engage on it, he throws it off you," Alvarez explained to Sonnen. "It's the timing of it. I don't even know… he might have landed on the back of my head. To be honest with you, the first shot; I had no clue what it was. I had no clue. I got hit, and my butt was on the ground, and I remember my head going 'what the fuck was that?'
"I had no clue what the first shot I got dropped with was. I think I threw and he threw at the same time. I missed, his range was able to get it."
As usual, the wake of a McGregor has fans and pundits alike praising and pondering the Irishman's left hand. His 'notorious' left straight has put many an opponent to sleep, and it repeatedly found it's mark against Alvarez all night, dropping the Philadelphia native over and over.
"He does it real well," Alvarez continued. "He throws on throws, and he changes it up, he'll let you throw and he'll rock back and counter. He does it all three ways. All three ways of engaging, he does it with that left hand, and he does well with it."
As a former champion of the division, Alvarez is in a position to evaluate his and McGregor's competition at lightweight at the same time — although he's not sure if it'll be the division McGregor fights in next.
"Tony Ferguson is not a pay-per-view…" Alvarez said. "That's not a draw. Nobody cares about that. I don't know how many people care about Khabib, people would only really care if he fought for a third title. That would be fun, a lot of people would tune in for that.
"If he goes for the 170 [welterweight] belt. Then what that does is, he gives up the '45, still has the '55 and doesn't defend that immediately, and then he has the chance to make more history and not fight anyone in the division. Not like build his way through it, but I dunno if the UFC will allow him to do that."
Comments
comments