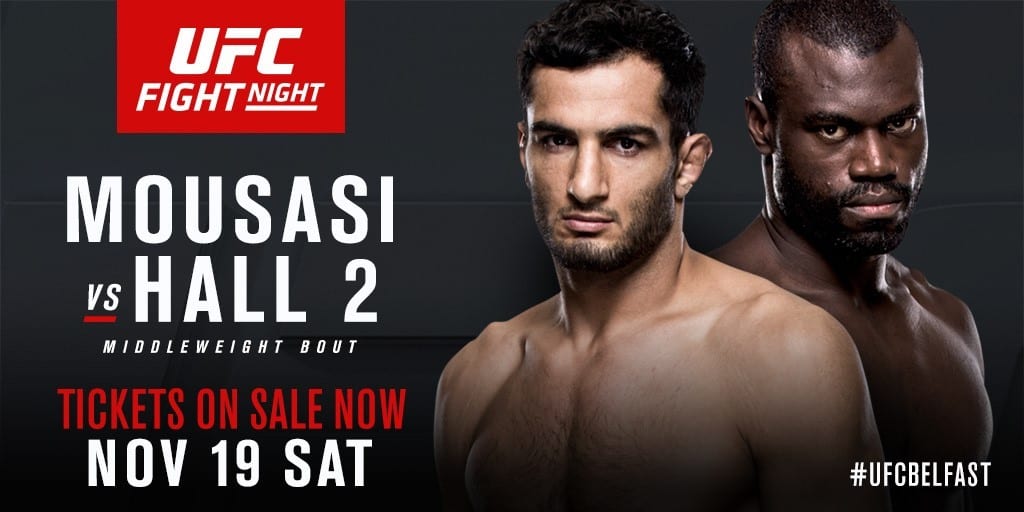 The UFC has finally made its return to Belfast, Northern Ireland.
Some of the best prospects on the European MMA scene will showcase their skills on the biggest stage of them all in Belfast this evening, as well as a main event with huge ramifications on the UFC's middleweight division as Gegard Mousasi and Uriah Hall meet tonight for a second time.
Irish interest this evening is focused squarely on two SBG fighters: Artem Lobov and Charlie Ward.
TheMacLife.com is live in Belfast for all the action, so stay tuned to this page as we will be updating live with all the news and results from The SSE Arena.
UFC Belfast, 19th November 2016
Gegard Mousasi vs Uriah Hall: Mousasi def. Hall via TKO, Round One
Ross Pearson vs Stevie Ray: Ray def. Pearson via Split Decision
Timothy Johnson vs Alexander Volkov: Volkov def. Johnson via Split Decision.
Artem Lobov vs Teruto Ishihara: Lobov def. Ishihara via Unanimous Decision.
Magnus Cedenblad vs Jack Marshman: Marshman def. Cedenblad by Knockout, Second Round. (Post-fight interview with Jack Marshman)
Kyoji Horiguchi vs Ali Bagautinov: Horiguchi def. Bagautinov via Unanimous Decision (30-27 x 3) (Post-fight interview with Kyohi Horiguchi)
Kevin Lee vs Magomed Mustafaev: Lee def. Mustafaev via Rear Naked Choke Submission, Round 2 (Post-fight interview with Kevin Lee)
Anna Elmose vs Amanda Cooper: Cooper def. Elmose via Unanimous Decision (30-27, 29-28 x2) (Post-fight interview with Amanda Cooper)
Justin Ledet vs Mark Godbeer: Ledet def. Godbeer via Rear Naked Choke Submission, 2:16 Round One. (Post-fight interview with Justin Ledet)
Zak Cummings vs Alexander Yakolev: Zak Cummings def. Alexander Yakovlev via Submission, 4:02 Round Two (Post-fight interview with Zak Cummings)
Marion Reneau vs Milana Dudieva: Reneau def. Dudieva via TKO, 3:03 Round Three (Post-fight interview with Marion Reneau)
Brett Johns vs Kwan Ho Kwak: Johns def. Kwak via Unanimous Decision (Post-fight interview with Brett Johns)
Charlie Ward vs Abdul Razak Alhassan: Alhassan def. Ward via KO, 0:53 Round One
Comments
comments