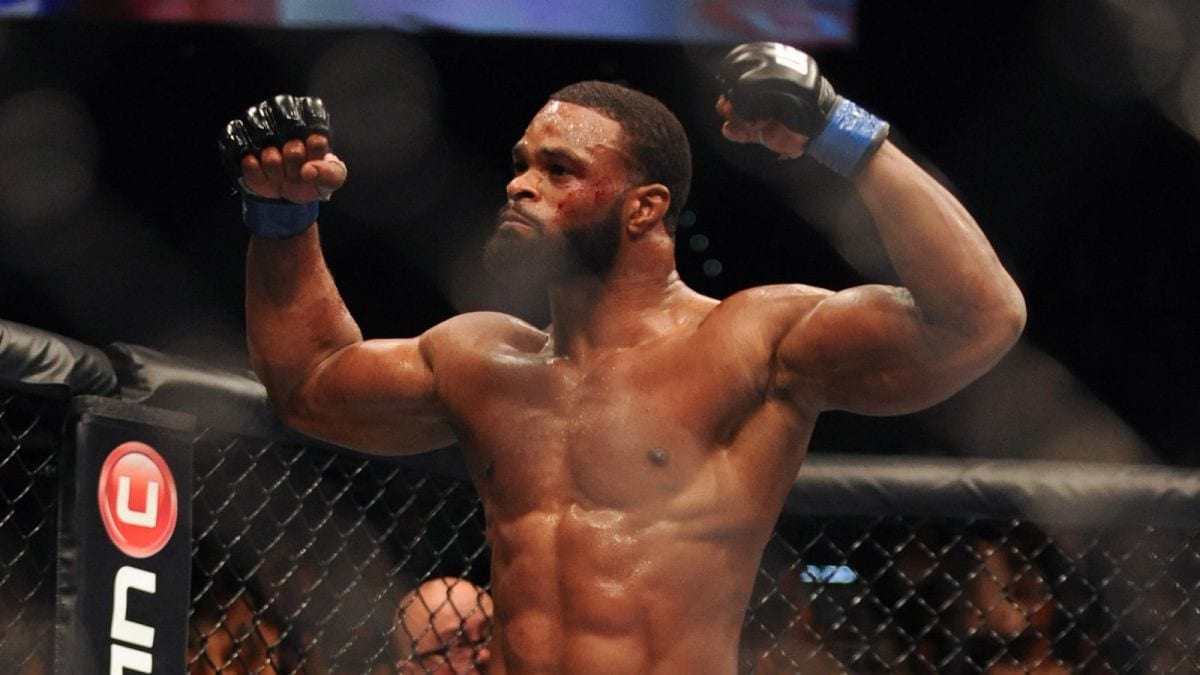 The relationship with the fans, since the start of Tyron Woodley's championship reign has been somewhat of a contentious one.
In fact it's almost as if from the moment Woodley knocked out Robbie Lawler, he raised people's hackles. Most fans supported the idea that Stephen 'Wonderboy' Thompson should receive the next title shot, so when Woodley raised the belt in the Octagon, walked backstage and told Thompson in a TV interview that he wanted bigger fights for more money, fans weren't impressed.
Now though, with Thompson and Woodley scheduled to face each other at UFC 205 in two weeks, Woodley notices a distinct difference in attitudes from fans in regards to him and, say, Michael Bisping.
"You know what is funny?" Woodley said to BJPenn.com. "I like how when I asked to fight St-Pierre, and Georges agreed to fight me everybody had some big issue with it. The former world champion, the best welterweight to have ever graced the octagon saying he would fight the current welterweight champion and everybody has this huge issue.
"But Michael Bisping, who I like and think should probably be up for fighter of the year, when he says that he would like to fight Georges St-Pierre, when Georges would have to go up a weight class and fight in a different division, nobody has a problem with that. Like is that weird or is it just me?
"Nobody had a problem with that and nobody had a problem with him fighting Dan Henderson. When clearly a Jacare, or a rematch with Luke, or Chris Weidman, or Yoel Romero, all those fighters were more deserving."
To be fair, there are some differences in situations.
When Woodley called out St-Pierre, there were no real indications the welterweight legend was close to a return. In fact, the Canadian only began USADA testing ten days after Woodley's suggestion.
When Bisping called out St-Pierre, the welterweight legend had been publicly campaigning for a fight on UFC 206, an event that should Bisping appear on, would not necessarily affect his fighting schedule to the point where another contender (such as any of the names Woodley mentioned) would be forced to wait.
Still, Woodley does (and perhaps fairly) feel aggrieved.
"[Fans] say 'You're not a champion until you defend your belt.' Well what the fuck am I then?" Woodley said. "I don't get it. They also say to be the champ you have to convincingly beat the champion. Let me tell you something. If you shoot a 3-pointer, it doesn't matter if it was an old Dr. J hook, or if you swish it and do a Stephan Curry, if that baby goes in it is a 3-pointer.
"We are the only sport where fans selectively have rules on how it should happen, when it should happen, who you should fight, how the fight should go. If you're fighting a brawler people get upset if you don't brawl with them. It is the stupidest thing ever. It is a different set of rules man."
With his UFC 205 opponent being a strong fan favourite, should Woodley walk out of Madison Square Garden with the victory he intends, it's unlikely that his rocky fan relationship will disappear anytime soon.
Comments
comments