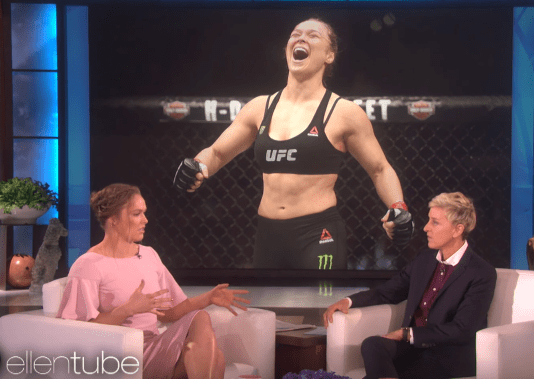 Although she is only slated to return to mixed martial arts in December after more than a year away from the game, Ronda Rousey says she is already winding down here UFC career.
The former UFC women's bantamweight champion will look to reclaim the title she lost to Holly Holm last November when she challenges current titleholder Amanda Nunes in the main event of UFC 207 on Dec. 30th but regardless of the result of that fight, Rousey says her days in mixed martial arts are numbered.
Appearing as a guest on Ellen, Rousey said that the pressure of fighting is leading her to want to step away from the game – and it's going to happen soon.
"Not that long. I'm wrapping it up, this is definitely one of my last fights", Rousey said. "Everybody better watch because the show isn't going to be around forever."
Rousey went on to explain that the hectic world of fight promotion – not the fighting itself – is incredibly draining and leaves her "tired".
"The build-up is more tiring than anything else. If I had a fight right now I'd be like, 'I'll fight right now and then I'll go get dinner' and I wouldn't feel really tired about it. The weeks and weeks of build-up beforehand, [where] you know you're fighting this one person. It's like your showdown, the most important thing in your whole life and millions of people are watching. It's that build up for weeks on end. If it just happened right now I wouldn't be nervous at all."
It will come as a huge blow to the UFC if Ronda Rousey permanently steps away from the sport. With proven box office commodities Georges St-Pierre and Jon Jones currently on the shelf, a Rousey-less UFC would leave the company overly-reliant on their top pay-per-view and box office draw Conor McGregor.
After the recent report that McGregor accounted for around 25% of the UFC's pay-per-view sales in 2015 from just two fights, the UFC's earning potential will take a blow if they lose their only other truly bankable star in Rousey.
UFC 207 takes place in Las Vegas on Dec. 30.
Comments
comments