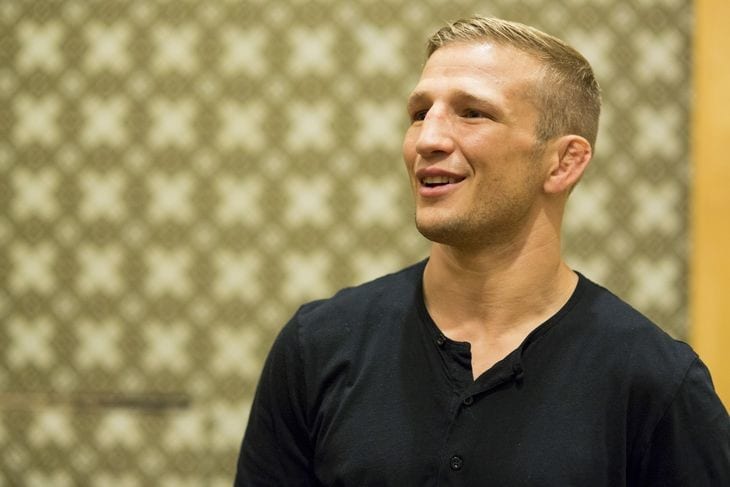 TJ Dillashaw's loss to Dominick Cruz was about as razor thin a decision as you can find in mixed martial arts.
So when Cruz vs. Cody Garbrandt was booked for UFC 207, Dillashaw — who campaigned heavily for the rematch — was understandably disappointed by not getting the shot at his old title.
"It's a tough one to swallow, especially because I feel I've done my job; I've done what I'm supposed to do," Dillashaw said, speaking to fansided.com. "I had a very close fight with Dominick Cruz where the owners of the UFC told me they thought I won the fight, so that kind of burns deep. Not only should I have that belt, but I should be getting paid as the champion and to see Dominick Cruz being put on a Ronda Rousey card and about to get hooked up with a really big fight, it definitely bugs me.
"Nothing against Cody Garbrandt, it's not his fault," Dillashaw said. "All of us should be pushing for the title, that's the ultimate goal, but I blame Dominick Cruz and the UFC for letting this happen. I really don't understand why the UFC is letting Dominick Cruz pick the fights he wants."
Deciding a title contender between Garbrandt and Dillashaw couldn't have been an easy decision for the UFC. While Dillashaw was a dominating champion who lost his title in the closest of close circumstances, Garbrandt has been on an absolute tear of late.
So, despite Dillashaw crusading for his shot via social media (including offering Cruz a $100,000 bet), in the end it seems the genuine ill-feeling between the champion and Garbrandt swung it.
"I'm a company man, dude," Dillashaw said. "The UFC is the best organization in the world for mixed martial arts. I want to be in the UFC and if you think of the best fighters in the world, you think of UFC champions… but I wish it would just pay off a little more. I want to be the best fighter in the world and that's with the UFC. They've done a great job and I'm very grateful for the position I'm in, but this fucking sucks."
Still, Dillashaw doesn't appear willing to join an increasingly long list of disillusioned colleagues who are willing to walk away from the sport after not receiving fights they felt they'd earned. Instead, he has another plan: act as champion until it happens.
"I'm going to beat all the toughest guys and let [Cruz] hand-select the fights he wants," Dillashaw said. "Eventually, real fans will catch on and those are the ones that really matter to me. They know who's taking the tougher fights and who's the one fighting the No. 1 contenders.
"You can have a powder puff champion who is going to pick Top 10 guys or you can have me — the real champion — who is going to beat everyone that is ranked No. 2. You tell me who is acting more like a champion?"
With that mindset moving forward, Dillashaw already has an opponent, and date, in mind.
"I think John Lineker would be a great fight for me and a great win for my legacy," he said. "It'd be a great way to hype myself up, beating the toughest guy. And I'd love to be on the same card as [Cruz] to prove a point. I think it would be hilarious to fight before them at UFC 207 on December 30. It would be awesome."
Comments
comments