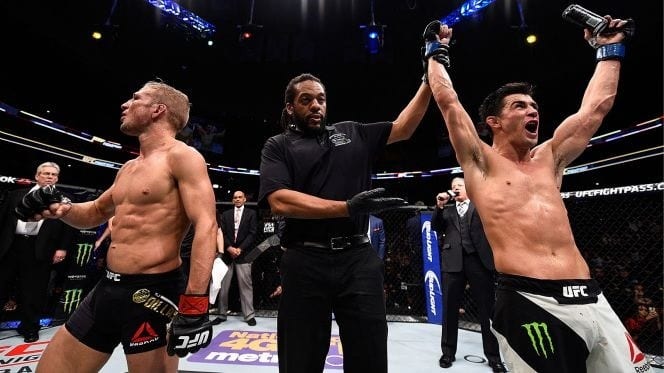 Undefeated Bantamweight contender and Team Alpha Male member Cody Garbrandt is the latest fighter tasked with solving the puzzle that is Dominick Cruz. The two rivals will meet for Cruz's title at UFC 207 on December 30th in what is, to many observers at least, the best fight that can currently be made at 135lbs.
There is one dissenting voice, however.
Former champion TJ Dillashaw was dethroned by Cruz last January but he is adament that it is he, not his former Team Alpha Male teammate, who should be getting the shot at Cruz's crown.
"It's a mockery. It's a mockery of the sport", Dillashaw said to FanSided.
"The sport should be about the best guys on the planet [against each other]. What's the point of having rankings [if the UFC doesn't follow them]?"
TJ Dillashaw is currently listed as the number one contender in Cruz's division. Cody Garbrandt is several places below him, in the sixth spot.
"Nothing against Cody Garbrandt; it's not his fault," Dillashaw continued. "All of us should be pushing for the title — that's the ultimate goal — but I blame Dominick Cruz and the UFC for letting this happen. I really don't understand why the UFC is letting Dominick Cruz pick the fights he wants."
To make matters worse for Dillashaw, he recently received a large gash to his eyebrow in training on Friday will require treatment before he's able to fight again.
https://twitter.com/MikeBohnMMA/status/792188247501836288
UFC 207 takes place in the T-Mobile Arena in Las Vegas on December 30th and will be headlined by a bout between Women's Bantamweight champion Amanda Nunes and the returning former champion, Ronda Rousey.
Comments
comments