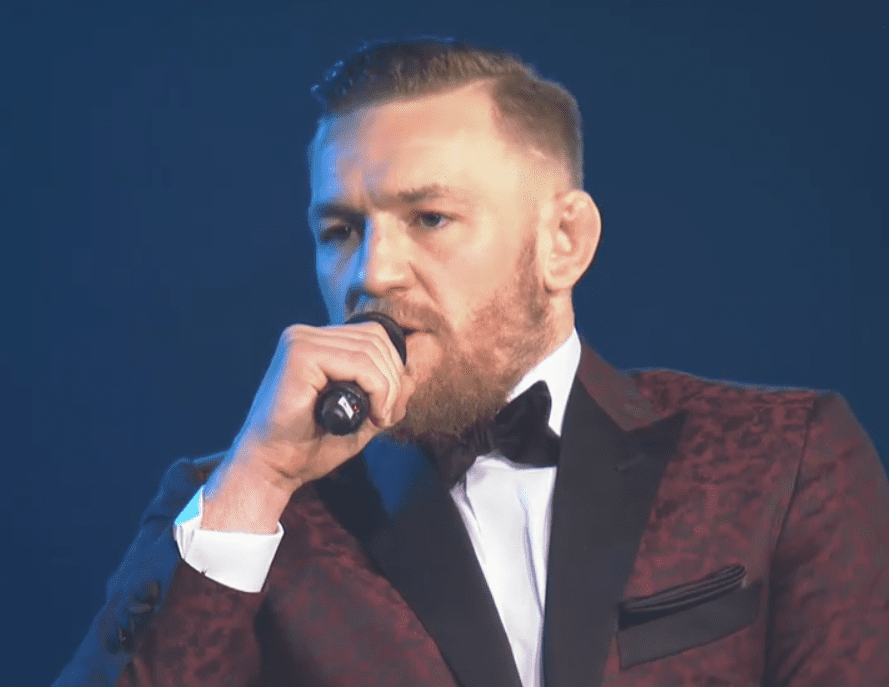 Welcome to the "In Case You Missed It" weekly round-up. Here, every Monday, we'll be taking a look at the top stories of mixed martial arts that emerged in the last week.
Over the last seven days, we've had (as usual) plenty to discuss in the world of MMA. Conor McGregor broke his silence, former UFC employee Mike Goldberg did the same and a new contender in the women's 135-pound division was found. So let's take a look in case you missed it.
Conor McGregor speaks
On Saturday night, Conor McGregor spoke publicly for the first time since UFC 205.
Sitting down for an hour long conversation with respected journalist Ariel Helwani, McGregor spoke on nearly every topic fans were wondering about. From Ronda Rousey, to the current lightweight and featherweight divisions, the Irishman spoke candidly about everything — especially about a certain Floyd Mayweather.
McGregor revealed that he didn't feel motivated to face any of the current lightweight or featherweight contenders, stating that they needed to gain more notoriety. Instead, after becoming the two weight world champion, McGregor wanted to push for yet another challenge, and has decided on the boxing icon.
While there are plenty of obstacles in the way, McGregor — who has repeatedly proven that what he invisions, he gets — remains confident he can get it done.
Anderson Silva continues to target Conor McGregor
Anderson Silva is about as well known in the sport of mixed martial arts as you can get. A shoe-in for the UFC Hall of Fame, and one of the greatest fighters to ever step foot into the Octagon, the former middleweight champion has long been known as a humble and unaggressive man outside the cage.
So, when he repeatedly names a man he wants to face, it's hard not to take notice.
Recently, Silva has brought up the UFC lightweight champion Conor McGregor as a desired opponent. While the size difference between the two appears striking, Silva maintains he can get down to a reasonable weight for McGregor to meet him at.
"I believe he can make 176, 178 pounds, right? That's a weight I can get," Silva said. "We started this work and I got to 174, but we thought it would be better now to do these tests.
The reason behind Silva's fascination with the Irishman supposedly stems from a form of martial arts respect, claiming that he wants to test his striking abilities against that of 'the notorious' one.
"I'd like to test myself against Conor because he's an interesting martial artist," Silva said. "His stand-up game is an intelligent game. Not because he's champion now, but for the martial arts challenge. I'd like to see how these stand-up techniques, his and mine, would mix, and how that would go. But not to fight for a belt or anything like that. For the challenge, an interest, that thing about knowing how a fight like this would go."
UFC on FOX delivers again
Elevation or not, UFC Denver delivered. With four great finishes out of four great fights on the main card, the new owners showed a hint at their future priorties as FOX bagged itself another phenomenal event.
YES! YES! YES! YES! #UFCDenver pic.twitter.com/HfP9MMkA5w

— #UFC208 (@ufc) January 29, 2017
But, while there were moments to send fans home happy (such as Valentina Shevchenko and Amanda Nunes' in-cage meeting), the Colorado fans also had to deal with some disappointment.
Hometown hero Donald Cerrone's run at welterweight came to an abrupt end, with Jorge Masvidal tearing into him and putting an end to Cowboy's unbeaten streak with a vicious finish.
Mike Goldberg opens up about UFC release
As a twenty year employee of the UFC, most felt bad for longtime comentator Mike Goldberg when he was axed from his position with the company. Plenty felt even worse when he revealed how harsh the dismissal had seemed.
"I got the news that my contract would not be renewed, and so I was given about a month's notice[…]It was a shock. I was speechless," Goldberg said speaking on The MMA Hour. I didn't know what type of emotion to have, because I was just in a state of shock and disbelief.
"I was one of a lot of people, and a lot of good people from the Zuffa era who got cut[…]I watched everything around me be shattered. It took fifteen years to build this wonderful family, and it felt like fifteen minutes to destroy it.
"What reason were they going to give me and would that make me feel any better or any worse? No, not at all. Honestly, I just felt respect for the other members of the family who got released, and I'm not better than any of these guys. It's extremely disappointed don't get me wrong, but mostly disappointing because of what happened to our family."
Even more shocking, was the revelation that UFC President Dana White hadn't spoken to Goldberg since his leaving the company.
The world of business, people.
Comments
comments