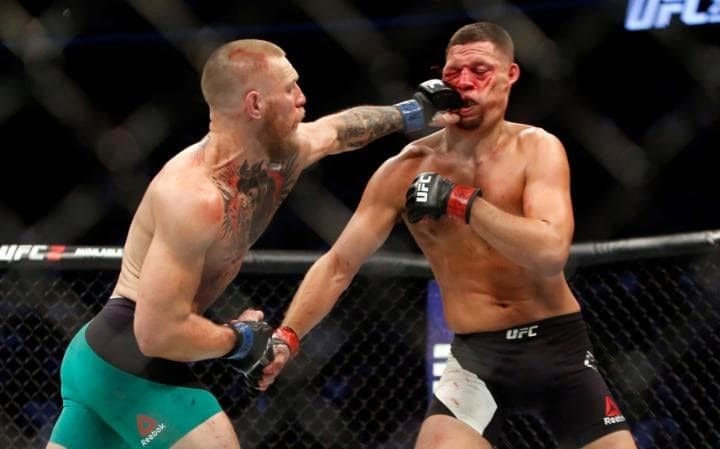 Anyone who was witness to Paul McGrath's performance for the Irish football team against Italy in the Giants Stadium during the USA '94 World Cup will need no reminding as to The Black Pearl of Inchicore's legendary status in Irish sporting circles.
McGrath, whose left arm was paralysed by a virus throughout the tournament, produced the performance of his career to keep the dynamic Italian attack of Roberto Baggio and Guiseppe Signori at bay in the New Jersey heat and forever etched himself into the list of Irish sporting heroes following the performance.
Another signatory to that exclusive list is 'The Notorious' Conor McGregor, a fighter whose achievements in the octagon have set a new high-water mark for what a mixed martial artist can aspire to in their career.
Speaking to the Sunday World, McGrath paid homage to his countryman and says that McGregor's success and the national enthusiasm at his back reminds him of the support that the Irish football team experienced in their World Cup adventures in the early 1990's.
"What I most like about him is the way he carries himself as an Irishman", McGrath said of McGregor.
"He plays the role brilliantly. Fair play to him, he's making an awful lot of money while making people happy.
"I remember the first time I saw him in action. I was at home on my own, flicking across the channels. McGregor was fighting in Dublin.
"What I loved was his fearless gladiator shtick; he was pure theatre, a showman speaking confidently, articulately, and unapologetically about Ireland. And honestly, it sent a shiver down my spine. I was hooked."
While McGrath says that he's a relative newcomer to the world of mixed martial arts, it was immediately apparent when he first laid eyes on Conor McGregor that he was a special kind of athlete.
"When I heard Sinead O'Connor singing 'The Foggy Dew', when I saw the number of Irish fans he brought to Vegas for UFC 202, it brought me back to the great days under Jack Charlton for the Ireland national team. Here it was again, sport offering a vessel for the nation to put its trou­bles to one side and just revel in the joy of identity, a raucous, uplifting celebration of Irishness.
"The fascination for me (I regard representing my country at Italia '90 among the highpoints of my life), was his evident pride in place. Honestly, Conor had me – bad knees and all – bouncing with fervour."
Comments
comments