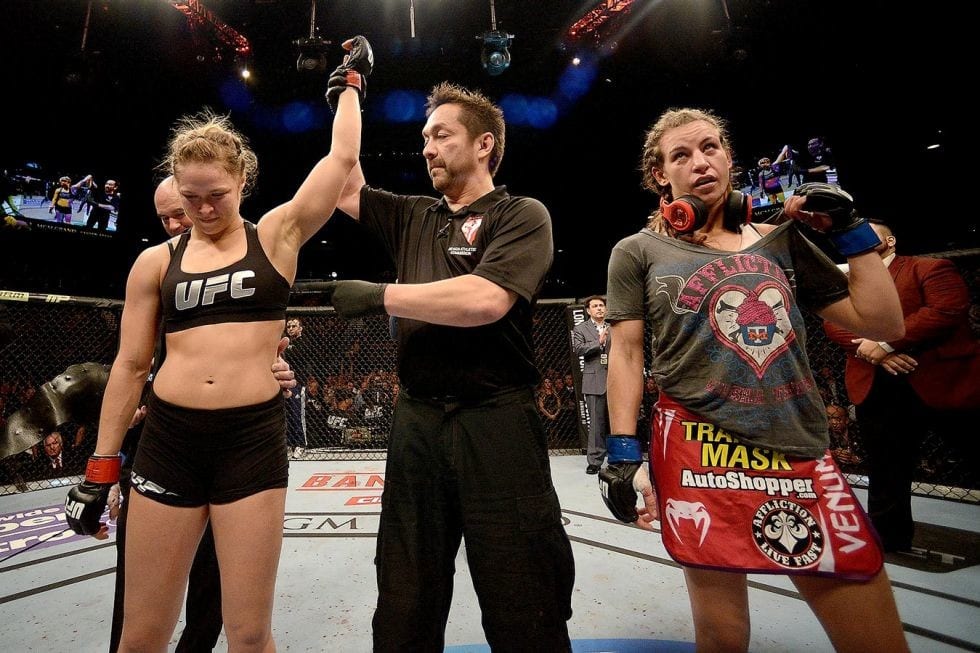 There is a long history between Miesha Tate and Ronda Rousey that dates back to their Strikeforce days. The two have met twice inside the cage, both times for a title and both times Tate came up short. Rousey, now set to return against bantamweight champ Amanda Nunes, recently announced that she only has a few fights left before she parts ways with the sport. Miesha who spoke with media during the UFC 205 media lunch on Wednesday was clear that she wants to be one of those fights.
"For me I just want to fight her one more time. Granted that she goes out there and does well and wants to continue fighting, I would love the opportunity to go one more time," Tate said. "Hopefully it's not too much of a race against the clock. I will be watching that fight, definitely invested."
Tate has also tasted defeat at the hands of Nunes, who beat her at UFC 200 by TKO to capture the women's title. One would think due to the devastating fashion in which Tate lost her title that she would want another crack at Nunes as well and that would be correct. The belt is Tate's objective, but she knows the window of opportunity is closing on another shot at Rousey.
"It depends who has the belt, that is my number one goal," Tate said. "I do want to fight them both again. I do have more of a sense of urgency to fight Ronda, because I don't know when she is going to wanna not do this, when she is going to leave the sport. I think Amanda is going to be here for some time."
When Tate was asked to make a prediction on the fight she said it was difficult to do because there were so many variables surrounding Rousey, but wouldn't be surprised if Nunes walked out the winner.
"There is so many x-factors, we have never seen Ronda in this state. Having been out so long and being knocked out and that sense of invincibility clearly has to have been shaken," Tate said. "I would not be surprised if Amanda won that fight."
Words: Jason Sutcliffe
Comments
comments