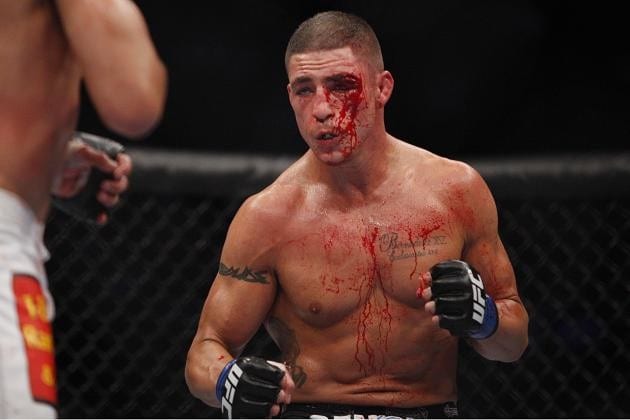 Diego Sanchez has seen pretty much everything in his time in the UFC so far. The very first winner of The Ultimate Fighter, Sanchez has fought all comers across four different weight classes since debuting with the UFC more than 11 years ago but in Polish submission expert Marcin Held, he sees a different challenge compared the most of his more recent match-ups.
"I've been fighting for a long time and I've been fighting the highest level strikers and mixed martial artists in the UFC for a long time and now I get to fight a grappler," Sanchez said to MMAjunkie.
"It's an exciting matchup. I have to remember from experience who I am. I'm Diego Sanchez, I'm 'The Nightmare.' You go forward, you fight, you're aggressive. You're the predator and he's the prey."
Sanchez hasn't competed in the Octagon since a first round stoppage defeat to Joe Lauzon at UFC 200 last July and has alternated wins and losses in his last 8 bouts. It was this performance, where he was beaten in under half a minute, which Sanchez says provides motivation to get back in the win column on Saturday night against Held.
"I have to come forward and I have to put pressure," Sanchez said. "That's how Diego Sanchez fights. When I was going forward with Joe Lauzon, I landed 15 of my first 17 strikes. I was landing everything crisp and precise.
"I have to stalk this man down. I'm ready for his takedowns and I'm ready for whatever he's willing to do. Roll for ankle locks – my legs will be shaved and silky smooth. I put an Instagram of me with a pedicure tool getting my heels all silky smooth. I'm ready for whatever he brings, but the thing is this: Is he going to be ready for what I bring. Because I'm going to bring fire. It's going to be that Latin heat and I'm going for the KO. I'm going for the KO and I'm going for his head. In my mindset, going into this fight it is calm, it is confident and it is courageous."
Held, a former Bellator competitor, has earned most of his victories on the mat and is particularly well known for being a leg-lock specialist. None of this concerns Sanchez, however.
"I'm not afraid to take this guy down," Sanchez said. "I will take this guy down when I want to, when the time is right. I'll take him down and I will be 'The Nightmare.'
Diego Sanchez fighters Marcin Held in the co-main event of UFC Fight Night 98 from Mexico City on Saturday night.
Comments
comments