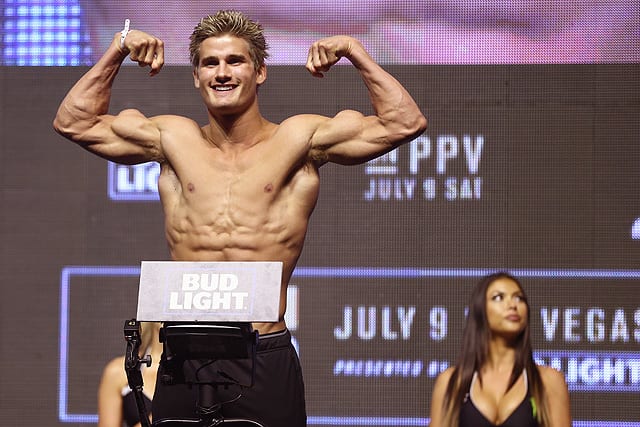 When Mickey Gall called out Sage Northcutt at UFC 203, it only took a few minutes for the latter to accept the challenge.
It was moments after Gall had defeated MMA debutant CM Punk, that he took to the microphone and made it a point to call out a fellow up and comer, saying:
"I got someone I want next. The fight everyone wants to see: I want "Super" Sage Northcutt, I think that boy's corny; I want to punch the spikes out of his hair. They say we're "Dana White: Lookin' For A Fight" young guns; let us bang out. They say guys like us might get protection, but fuck that. I want war!"
It was almost enough to make the notoriously angelic Sage lose his cool for a moment, who responded to Gall when speaking with Ariel Helwani on The MMA Hour, today.
"You know what's funny Mr. Helwani," Northcutt said. "He's talking about my hair, he wanted to punch the spikes out of my hair, and you kind of look [at his] pictures; his hair kind of looks like mine. It just doesn't have the hair gel in it, it doesn't look like. So I'm thinking maybe he should get some hair gel and style it or something."
Damning words, indeed.
In actuality Northcutt took (as he always does) the callout in his stride, and didn't have any issues with the nature of Gall's call-out. Although he did make a point to state he found the manner in which it was said to be mildly troubling.
"I think it's a step too far when he's cussing and saying the curse words out there," Northcutt said. "He says that's how he gets people's attention, but I don't know what kind of people's attention he's trying to get if he's cussing out there. Is it the families? Is it the moms? Is it the kids who are watching? I don't know but it didn't seem very appropriate."
A fight between the two, although nothing has been officially signed, seems a certainty at this point. Both are alumni of the UFC produced "Dana White: Lookin' For A Fight" and have both found more attention on them than other prospects at similar stages of their careers.
In fact, with the two both being on the younger side (Northcutt's 20 to Gall's 24) a fight between them could be the start of a longstanding rivalry.
It would also be the first time Gall has faced someone younger than himself.
"He fought two guys that came in to fight him, which I've actually never seen happen ever before, that had an MMA record of nothing," Northcutt said. "So they had no MMA record. I don't think they had no even amateur record, so they had no fights at all. And I think him just going in and fighting two different guys that had no fights, I think they were both close to forty years old or something like that too. It's almost like fighting someones dad that's only trained a little for a fight.
"I've never heard of it before, fighting two people who've had zero fights, pro or amateur. So, I think anybody that's in the UFC is very talented and anybody who fights will be very interesting."
Originally challenged by Gall to meet on the UFC 205 card in New York, Northcutt had to turn that date down after needing time away from training to recover from a staph infection. Instead, Northcutt stated he'd like to fight around the middle of December, which would point to either the UFC Fight Night on Dec. 17 or UFC 207 on Dec. 30 as possible dates.
Comments
comments