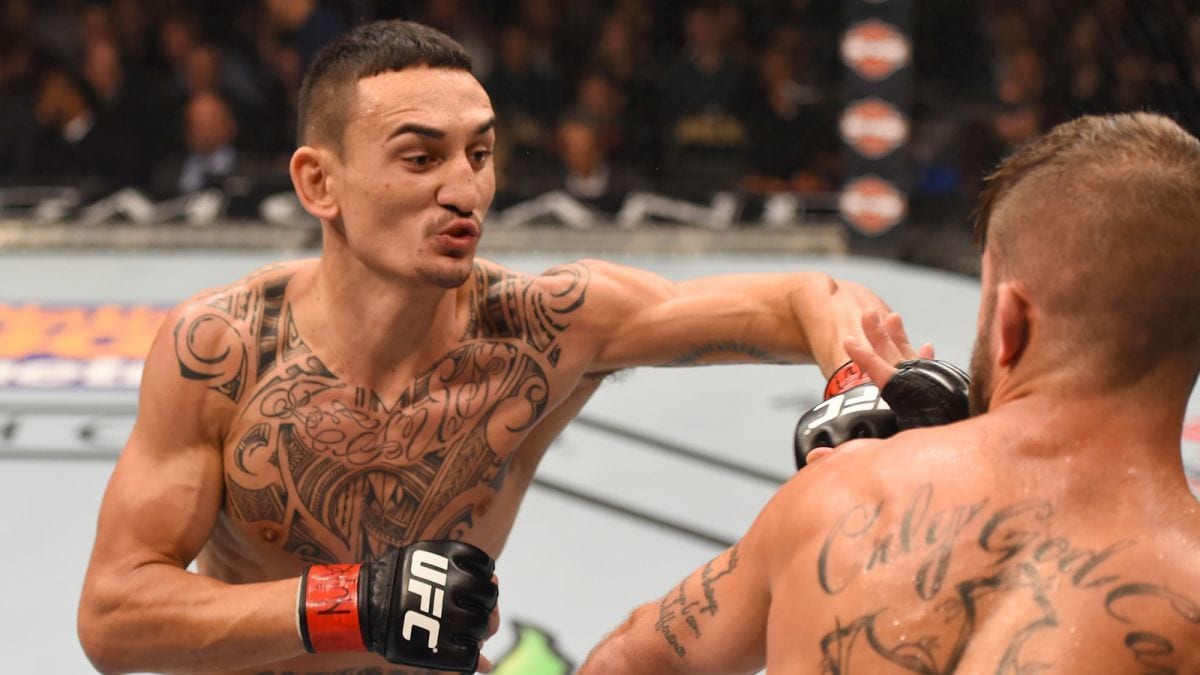 Max Holloway is getting tired of being overlooked.
When interim featherweight champion Jose Aldo made comments last week about preferring to face Anthony Pettis over Holloway due to perceiving it as 'bigger business', the young Hawaii native responded furiously.
"There's an outbreak in the UFC. An outbreak of pussy-itis," Holloway said when speaking to Fox Sports. "A lot of pussy guys. You tell me what the hell is going on with the UFC?
"I'm just as blown [away] as you are right now. He's over here talking about business. You want to talk about business? The money fight in the 45 division right now of course is Conor [McGregor], but they keep talking him fighting Eddie Alvarez. There's one guy left, you want to talk about the money fight, talk about me. Talk about Max Holloway."
With a McGregor vs. Alvarez bout speculated to take place at UFC 205, it seems the lineal featherweight belt would be handed to Aldo, who would then reign as champion at 145lbs.
At present Holloway rides a nine fight win streak, which would make it seem he's at the front of the pack in regards rightful challengers. So when Aldo says he'd prefer to face Pettis and potentially earn more money, Holloway feels slighted.
"This guy talks about fighting me before and then I don't know what changed in that matter of time," Holloway said. "We all know, face the music and come get yours. Come catch these hands and fucking let's do it. It's our time.
"He was over here complaining about his title shot, he wanted to fight Conor. But at the end of the day, he still got to fight Frankie [Edgar] for another title. If you want to be fair, come fight Max Holloway. My mind is just blown."
All in all, it affects Holloway's view of the man considered to be the greatest featherweight of all time.
"You lose a ton of respect for the guy," Holloway said. "I thought this guy was champion. He ain't shit. He ain't shit now."
"He did what he did, he's saying what he's saying, he's losing his mind. I don't know what the hell is going on down there in Rio but he's losing his mind. It's time to fight. I want to fight. Let's fight."
At 24, Holloway has a bright future in the sport. He's one of the youngest in the division, and hasn't lost since his defeat to champion Conor McGregor back in 2013.
"There comes a time when you have to put your foot down, it's time to put your foot down," Holloway said. "So many people trying to get easy fights. If I was Jose or I was Conor, I wouldn't fight me either. I would not. I say this and then I think "oh wait, you know what, I would" because I want the fucking hardest fights.
"I don't want easy fights. I don't want no shortcuts. So many people nowadays trying to do shortcuts. Fuck your shortcuts. I'm over here fighting the damn best guys in the mother fucking world."
Comments
comments