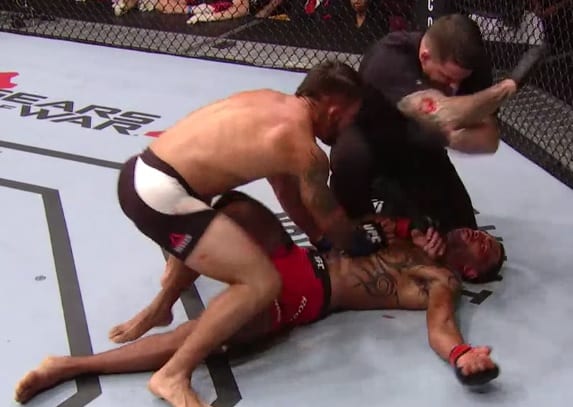 Veteran referee Marc Goddard has issued a statement following what many people saw to be a late stoppage in the Mike Perry vs Danny Roberts bout at UFC 204 last weekend.
It was a tight contest between Perry and Roberts, with the latter using his technical striking to outpoint Perry for the majority of the first three rounds. Perry, though, owns some serious power and had the Brit in trouble towards the end of the each of the first two rounds.
And then, with just seconds remaining in the bout, this happened.
Many figures within the MMA community have suggested that Goddard should have stopped the bout as soon as Roberts hit the canvas but the referee, clearly eager to give Roberts an opportunity to recovers and defend himself, allowed three more blows to rain down on the fighter who it appears (with the benefit of replay, it must be said) was out.
As soon as the bout was over, Goddard received numerous complaints on social media and while he says the tone of some of them was distasteful, the referee agrees with the sentiment expressed.
I received a TON of messages last night. Many personal & insulting but I'm a big boy and it goes with the territory. Expected & accepted.

— Marc Goddard (@marcgoddard_uk) October 9, 2016
But know this. No one alive is more self critical, self analytical and a harsher reviewer of me than me. It's been a long time since

— Marc Goddard (@marcgoddard_uk) October 9, 2016
I've ever felt so reflective but in an emotional sport my hearts so invested & I make it my business to teach acceptance honesty & humility

— Marc Goddard (@marcgoddard_uk) October 9, 2016
So its in my life blood to look back. We deal with inches, seconds, heat beats & emotion so high I could never put it into words.

— Marc Goddard (@marcgoddard_uk) October 9, 2016
In 1000's upon 1000's of fights around the globe for more years than most my upmost priority, my heartfelt duty is to protect the fighters

— Marc Goddard (@marcgoddard_uk) October 9, 2016
Whilst never unduly robbing them such sacrifices they make I've been there on both ends. I love this sport more than I could put into words

— Marc Goddard (@marcgoddard_uk) October 9, 2016
And I would never shy away from something that, on any other night I'd have done differently. It breaks my heart to think a fighter has

— Marc Goddard (@marcgoddard_uk) October 9, 2016
The need for improvement, growth and acceptance remains continual – and I'll never stop giving these fighters what they truly deserve.

— Marc Goddard (@marcgoddard_uk) October 9, 2016
Last night presented me with an instance that in truth in any other night on earth I'm acting sooner and that's the truth. Thank you all.

— Marc Goddard (@marcgoddard_uk) October 9, 2016
Comments
comments