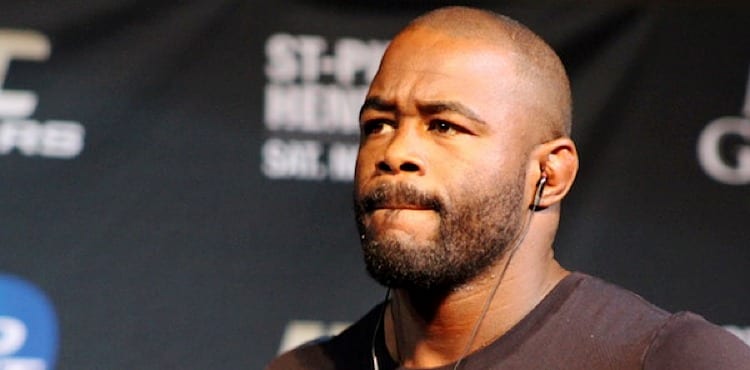 Middleweight just got a new contender.
After going 2-4 in his last six bouts, 'Suga' has finally decided to make the long theorised cut to Middleweight (185lbs) from Light Heavyweight (205lbs).
"I can tell you I'm working towards that in making my cut down to middleweight," Evans told Ariel Helwani on MMAFighting's The MMA Hour, Monday. "As far as the opponent, nothing has been set in stone. There has been talks about a fight with Tim Kennedy, but other fights too as well, but nothing has been signed yet."
Changing weight classes in an attempt to refresh a somewhat struggling career is nothing new. Robbie Lawler made huge waves in the welterweight division after failing to garner momentum at middleweight, while just last Saturday, Anthony Pettis won his debut featherweight after 3 straight losses at lightweight.
Indeed, a move to 185lbs has long been speculated for Rashad, with talks of a fight between him and then-middleweight champion Anderson Silva emerging back in 2013. Yet despite never being one of the largest at light heavyweight, Evans had long held reservations about undergoing the weight cut. Now though, he feels it's time to do something new.
"Well, you know, the thing about it is the fact that it is a tough cut but at some point I feel like I need just to kind of start over again," Evans said. "Kind of get something fresh, you know. And 185 is weight class that I've always thought about going but really never put the time and the discipline to make it happen and, you know, coming off two fights losing, I just want to find the way to bring some life back to wanting to compete again I feel like dropping to 185 is the best choice."
Now it appears to simply be a matter of where and when. And, being a native New Yorker, there's an upcoming event at Madison Square Garden that particularly captures the former light heavyweight champion's interest.
"It is absolutely perfect," Evans said. "I couldn't write anything better myself to be able to hopefully have an opportunity to compete on this card, to be a part of what this card means for the history of mixed martial arts, it's just, it really means everything to me, and it's a big opportunity, a big chance for me to get back on track and to make a statement, you know, it's something that I look to do.
"If I get a chance to be on this card, I'm going to go out there and show off, I'm going to do my thing, and I'm going to enjoy doing it, you know what I'm saying. This is what its about. It's just about being a part of history. No matter what happens in my life, I'll live forever in this moment, I'll be immortalised in this moment, being the fact that I can say that I competed in the first card at Madison Square Garden, UFC, mixed martial arts, and that for me it's something that nobody can ever take away. I'll just be happy I could be a part of that."
Comments
comments