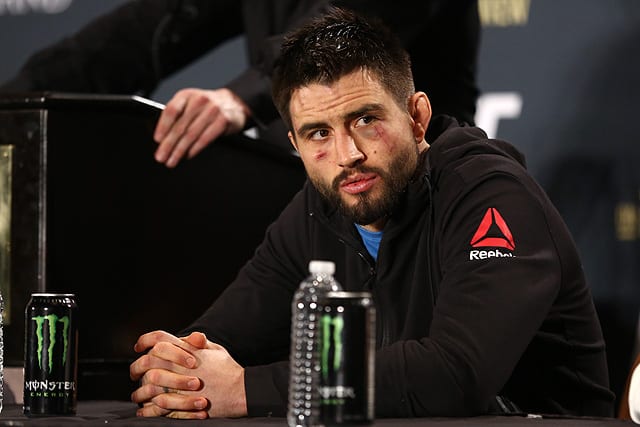 After considering retirement following his last fight to Robbie Lawler, it appears losing at UFC on FOX 21 has pushed Carlos Condit even further out the door.
On Saturday, Condit lost to Demian Maia in under two minutes in Vancouver, Canada, by rear-naked choke. While the win represents a huge victory for Maia, it pushes Condit further from the title, and provides an unenviable list of names to face before getting back to title contention.
A task, it seems, Condit's not willing to undertake.
"I don't know if I have any business fighting at this level anymore," Condit said at the post-fight press conference. "I've been at this for a really long time. The pressure of kind of being one of the top guys for almost a decade, it's been awesome to be involved in this sport as long as I have. I got to do what I love for a living for a very long time. I don't know, man. I don't know if I belong here anymore. We'll see."
After the loss to Maia, Condit now has victories in just two of his last seven bouts. Earlier this year, he went through a five round war to lose a hugely controversial decision against then-champion Robbie Lawler.
"It's been a long career and I think there comes a point in every fighters' career that they have to kind of question how long they're going to continue to do that," Condit said. "And I've been doing that for a little while. It wasn't my night tonight. I don't know if that's going to be the swan song for me. Hopefully not. I would hate to go out on a loss like this. I would've at least liked to have got in there and put on an exciting show like I usually do.
"But yeah, I don't know what's in the cards. I'm leaning towards probably, possibly being done."
With five round wars with Robbie Lawler and Georges St-Pierre under his belt, Condit (who started his career fourteen years ago) feels the damage he's taken over the years has started to take its toll.
"Honestly, I've had a tough career with a lot of fights and I've taken a lot of punishment," Condit said. "And I don't know if I can continue to take shots, honestly."
Watch the post fight press conference here:
Comments
comments