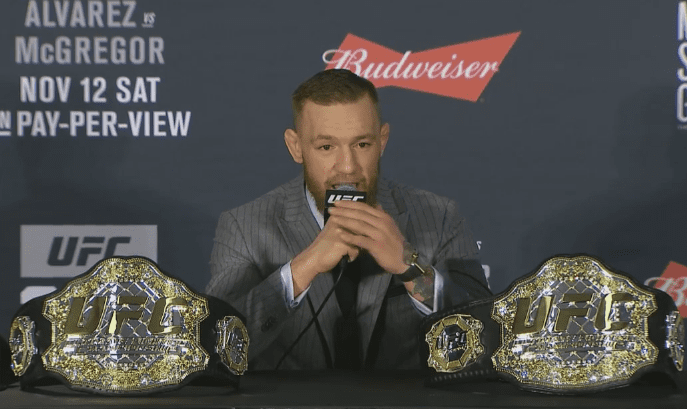 Conor McGregor possesses the type of skills that would be perfect for a crossover move to the WWE, according to professional wrestler Triple H.
"What does he walk around at? 180lbs? I have smaller guys now in the WWE. We have 200lb guys who are stars. You don't need to be 300lbs any more.
"But yeah, he could do just as well as Floyd Mayweather when he fought the Big Show. That really worked. Conor could do it for sure."
McGregor created a stir in the wrestling community last August when he lambasted the majority of the WWE roster as "pussies", though he did reserve some respect for Triple H who he referred to as a "don".
Awesome to have @tripleh here –adds to atmosphere on a special night … pic.twitter.com/gmYFkG78TN

— Gareth A Davies (@GarethADaviesDT) November 13, 2016
If McGregor was to ever seriously consider getting inside the squared circle, an appearance in the WWE would most likely be a special one-off appearance similar to that of Ronda Rousey's at Wrestlemania but with two belts to defend, and a child on the way, it seems at the moment that McGregor's time is very much occupied.
Still though, money talks and judging by Triple H's Twitter account today, he seems to be a very big admirer of the first dual title holder in UFC history.
#WhenYouKnowYoureTheMan @VinceMcMahon @TheNotoriousMMA #UFC205 pic.twitter.com/HGOgmS3mgf

— Triple H (@TripleH) November 14, 2016
Comments
comments