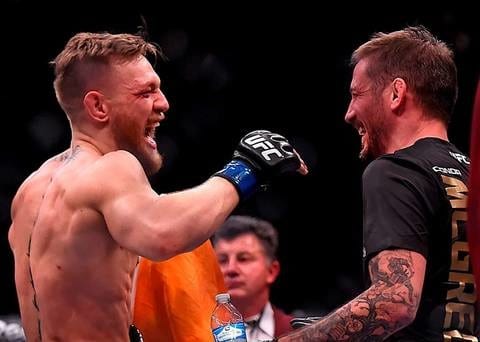 The record-breaking UFC 205 main event between Conor McGregor and Eddie Alvarez was a "mismatch", according to SBG Ireland head coach John Kavanagh.
Speaking live in studio to Ariel Helwani on Monday's edition of The MMA Hour, Kavanagh said that he didn't expect Alvarez to pose much of a threat to McGregor – whose victory by second round knockout earned the southpaw his second UFC world title and the distinction of being the first fighter in the organisation's history to hold two belts simultaneously.
"He seems like a great guy," Kavanagh said. "Solid fighter. But if we're just looking at skill sets, I felt going in that this was a massive mismatch. That's nothing to say about him as a person. Just skills wise. I really felt like this would look worse than the [Marcus] Brimage fight. But that style of fight.
"I just felt you have to bring a hell of a lot more than that to the plate to trouble who I think is the best fighter on the planet right now.
I just thought it was a massive mismatch and I will humbly offer the evidence of the fight as [something that] warranted that."
In a wide-ranging interview Kavanagh also offered his opinion on who might be next in line for McGregor once the dust has settled from UFC 205. Khabib Nurmagomedov and Tony Ferguson are thought to be the two top contenders in the Lightweight division, while interim Featherweight champion José Aldo is also campaigning for another shot at the Irishman.
However, Kavanagh sees things differently.
"I think the second best 145'er is Max Holloway", Kavanagh explained. "And I think the second best 155'er is Nate Diaz. That's my opinion."
You can watch the interview in full below.
Comments
comments