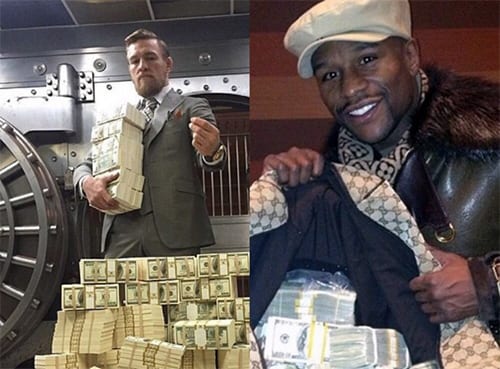 The curious case of Conor McGregor and Floyd Mayweather seemed to take it's largest step forward last week.
As two of their sports biggest stars — McGregor in mixed martial arts, Mayweather in boxing — there has long been talk of a hypothetical cross over fight. But, as with any fight of this magnitude, the barriers in the way always seemed insurmountable.
And yet.
Last week, Mayweather made a public declaration of interest. UFC president Dana White quickly countered with his first offer. And, save a picture to remind everyone he's watching, McGregor remained quiet.
While the fight seems to remain at some distance, there's no denying the landscape feels as if it's changing. Even to those closest to the epicentre.
"I was like everyone else, I thought it could never happen. With the politics between boxing and MMA alone, I just didn't think it was possible," Owen Roddy, McGregor's coach, said, speaking with Peter Carroll at Newstalk radio. "One thing I will say for Conor is, no matter how crazy the things he wants to do appear to people, he always seems to be capable of pulling it off. While I didn't think it could happen for a long time, if he says it's going to happen there is a huge chance it will."
It's clearly been something that's played on McGregor's mind for some time. Even prior to winning his second world title at UFC 205, the Irishman had spoken of a potential bout with the boxer. According to Roddy, that talk has gotten increasingly intense.
"He would mainly bring up Floyd in passing, but over the past month or two it's started to become more serious," Roddy said. It was just chitchat before but now everything is a lot more direct. Saying that, I still have no idea if this fight can ever happen, but it definitely seems to be getting closer and closer to becoming a reality."
It certainly seems a no-brainer to those involved. Mayweather, undefeated at 49-0, has taken a step back from boxing in recent years. For him, it would be an opportunity to reach the half a century mark undefeated and to walk off into retirement with one of the most successful events in combat sports history under his belt.
And, while McGregor isn't shy of making money himself, Roddy believes the UFC lightweight champion has, above all else, an interest in testing himself.
"It's an unbelievable opportunity for him to get in and box with the greatest boxer of our generation," Roddy said. "Conor has always said that he is the best fighter in the world when it comes to unarmed combat, and that encompasses all aspects of all unarmed combat.
"It's not just about the opportunity for Conor. He believes he can beat absolute everyone that he faces, including Mayweather. Another factor is the amount of money that would be on the line. There is an astronomical amount of money to be made from this fight for both of these guys. It would be crazy.
"I think that's the main thing for both of them. They're both very good businessmen and I think they know the amount of money they both would make would make the fight too much of a lucrative option for them not to explore."
Currently, the record for a pay-per-view event is the boxing match between Floyd Mayweather vs. Manny Pacquiao, a fight that took nearly ten years to come to fruition. But, while many would point to that as a sign Mayweather has a larger name value, his fight that followed that garnered just under half a million.
In the meantime, McGregor has become unarguably the UFC's biggest draw, breaking a the million buy mark with each appearance consistently over the last twelve months. With momentum on his side, it does feel as if it's the Irishman who's getting fan attention these days.
Regardless, there's money here.
"I think it would be the biggest combat event ever," Roddy said. "It would break every record that has stood in combat sports. Just imagine it. Not only would it bring in the boxing crowd, it would bring in the MMA crowd too. As well as that, there would be so much casual interest in the fight, probably more than we have ever seen before.
"For just the spectacle of it alone I would love to see it happen. It's still hard for me to think about it actually happening, but as I said, once Conor puts his mind to something I can never doubt him."
Roddy has been a coach of McGregor's since the very beginning of his career. It's because of his relationship with McGregor, and the closeness to have seen his handiwork and progression up close, that should the bout take place, Roddy refuses to rule out a McGregor win.
"Honestly he has said so many things in the past that have me thinking, 'he can't do that', and then he just keeps knocking down these barriers. It's amazing to see," Roddy said. "We all know what happens when Conor lands that left hand. It doesn't matter who it is, if that hand lands on your chin you're going to sleep.
"Everybody has found that very difficult, but Conor poses a very different threat. Any time Mayweather has taken a serious shot, it's always been against a southpaw. Conor is obviously a southpaw and he will be coming in and attempting to hit Mayweather from angles he probably hasn't seen before because they come from different disciplines. Conor will be a lot bigger too.
"This is going to be a tricky fight for Mayweather because it won't be like anything he has seen before in a traditional boxing match. Conor moves in such a unique way, it would be nearly impossible for Mayweather to get someone to replicate his style, especially because none of us have ever seen Conor contest a professional boxing match before."
Comments
comments