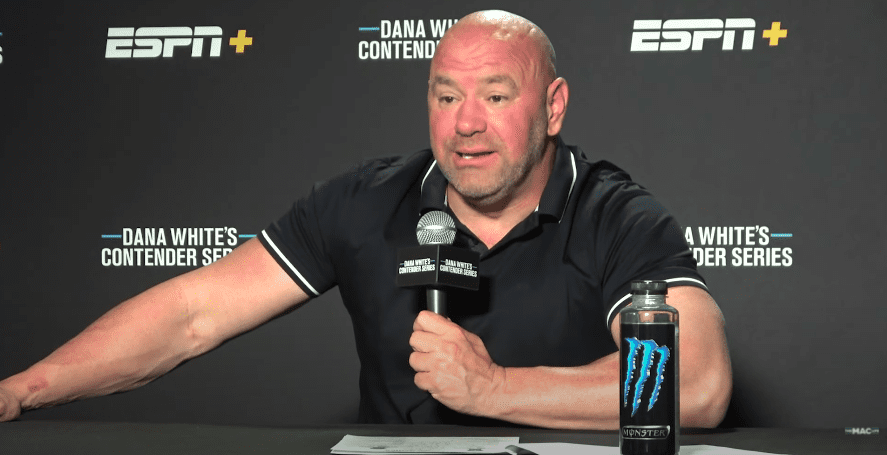 Dana White has a little experience when it comes to face-offs between fighters at press conferences — which is why he was hugel critical of Showtime for allowing the situation which unfolded on Tuesday when Canelo Alvarez and Caleb Plant came to blows at a press event. 
The two fighters, who are set to meet on November 6, exchanged punches on the stage moments after approaching one another for a face-off, and as White told the media later than day, it should never have happened.
"How long have you been in the business that you would let two fighters go up to each other face-to-face without somebody there to try to [keep them from fighting]," said White to reporters in Las Vegas, including The Mac Life. "And then, when it breaks out, there's like two women that are there before there's a man anywhere near it.
"You couldn't be f*cking dumber than what they did today, risk a massive fight with one of the biggest stars in the sport, by not having the fighters safe."
Plant suffered a small cut below his right eye during the fracas, and White said that he "wasn't surprised" that the event went down as it did.
"I'm not surprised," White said with his tongue firmly in his cheek. "Sh*t Showtime is, they're great. Those guys are really good at what they do, from production to press conferences. They're f*cking awesome."
White has also been critical in the past of his own employees oversights in similar situations, such as earlier this year when Jeremy Stephens and Drakkar Klose engaged in a shoving match which eventually led to Klose withdrawing injured from the fight. There was also the infamous exchange between Jon Jones and Daniel Cormier in a Las Vegas hotel several years ago.
"You can't let two alpha males walk up to each other, face-to-face at the f*cking supper club, or wherever they were today having that press conference, and let two guys stare down without somebody to break it up," White added. "But they're awesome, they're great at everything they do, so it's not shocking."
Comments
comments