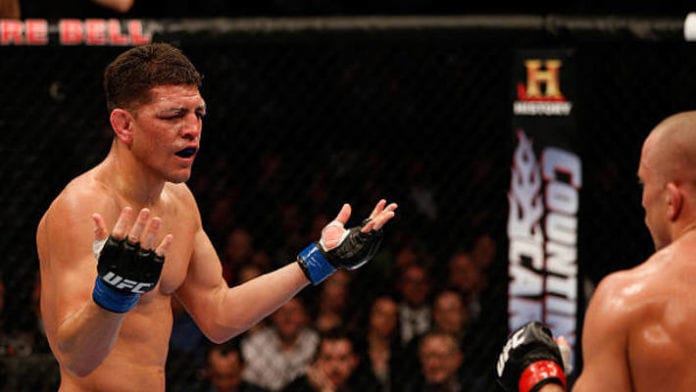 This weekend's highly anticipated return of Nick Diaz has undergone a last minute change. 
Reports late on Tuesday have indicated that the fight, which was originally scheduled to take place in the welterweight class, will now be contested at 185-pounds. News of the change was first reported by Ariel Helwani and then elaborated on by TheMacLife's Oscar Willis in conversation with Dana White in Las Vegas yesterday.
"Robbie wants to talk to me about this whole thing, so this all happened when I was out of town this weekend," he told reporters. "I know that the Diaz camp wants the fight at '85," said White.
"(Nick) probably doesn't want to make weight. Every time you come into a Diaz fight, and we forget 'cause we haven't seen Nick in a few years."
Diaz's last fight in the UFC against Anderson Silva some six-and-a-half years ago also took place at middleweight, while Lawler has also competed in that weight class on several different occasions.
Diaz's coach, Cesar Gracie, also took to Twitter to address some rumours regarding his fighter, namely denying suggestions that Diaz was either injured or knocked out during his training camp — flatly denying both assertions.
The UFC, of course, is no stranger to moving a fight's weight category on late notice, having done so on numerous occasions in recent years.
Comments
comments