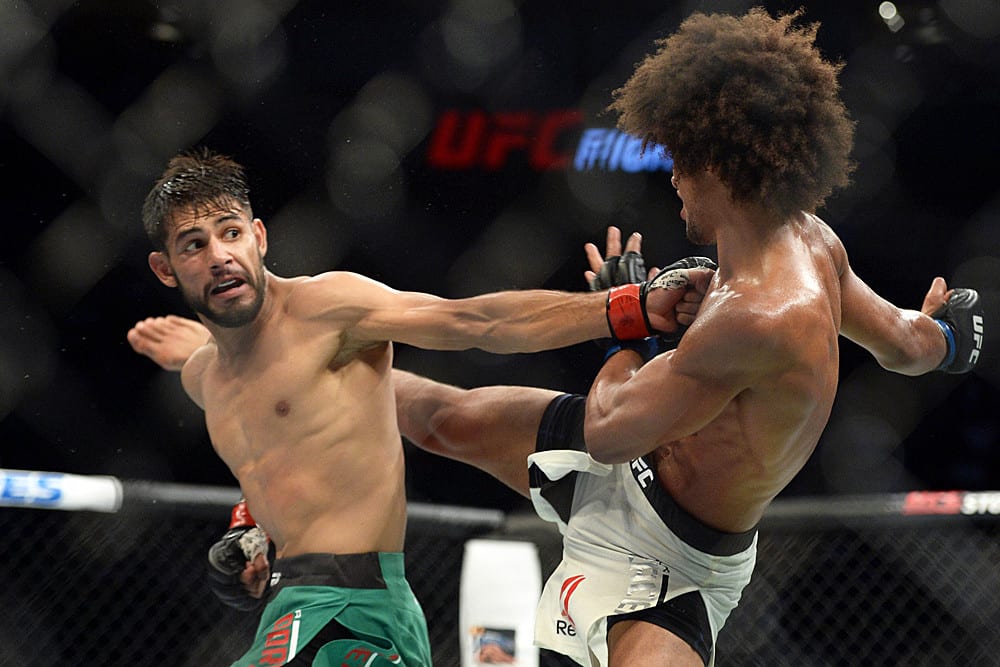 Given the occasion of BJ Penn's return to the cage for the first time in nearly three years, much of the narrative for last night's main event in Phoenix was centred around the return of The Prodigy.
Could Penn make one last run at UFC gold? Can he derail the momentum of surging contender Yair Rodriguez?
In the end the answer to the latter (and likely both) was a resounding 'no. The last chapter of BJ Penn's story will have to remain unwritten but, in its place the tale of Yair Rodriguez's career appears to be just getting started.
The Mexican fighter, ranked #10 in the featherweight division before last night, put in a star-making performance in defeating Penn via strikes 30 seconds or so into the second round and it seems very much that his main event performance will be the platform from which he begins an assault on the upper reaches of the 145-pound fold.
While some might have been surprised in the nature of the victory given Penn's legendary durability, El Pantera was confident throughout.
Speaking to the UFC's Megan Olivi, Rodriguez said: "I was pretty confident in myself that I would win this fight. I visualised it that way. I didn't see the five rounds coming, so I was ready to die or to win out there and, thanks to God, I [got] the win against a legend.
"Like I told [Penn], I respect him so much. He has no idea. It was an honour to fight him. Actually, after the fight he told me [the pre-fight talk] was all about gameplans and that he never wanted to disrespect me. I told him, 'hey man, I know it's part of the game.' So, I love you so much. Thank you for the fight and I respect you even more now."
According to early numbers emerging from the fight, Rodriguez outlanded Penn by 55 strikes to 4 and it was Penn's forward pressure, El Pantera says, which played right into his hands.
"I was hoping for him to come and pressure me. My strategy was to stop him. I think when he felt the power of the kicks he started slowing down a little. I didn't care if I was punching his guard, or kicking his guard. I know my kicks are strong and they go through the guard.
"If I stop a little, he would [have stood up]. He's a guy who has a lot of experience, you cannot play around with that. If you have the chance, you take it."
Comments
comments