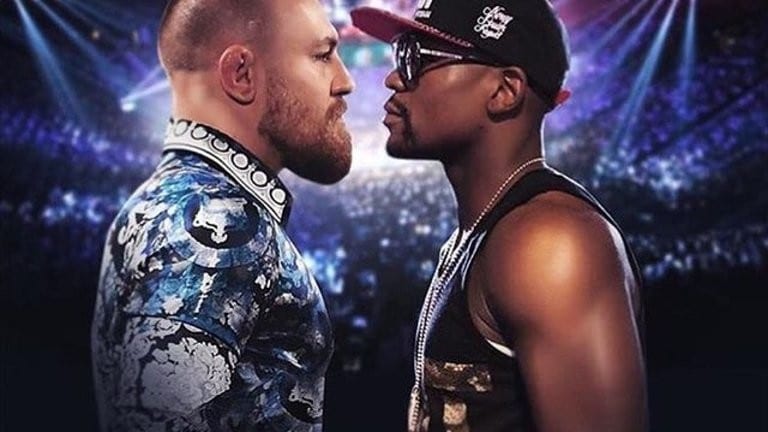 Welcome to the "In Case You Missed It" weekly round-up. Here, every Monday, we'll be taking a look at the top five stories of mixed martial arts that emerged in the last week.
Over the last seven days, despite there not being any fights until Sunday evening, the world of MMA still brought us plenty to discuss. Legends returning, fight announcements and the beginning negotiations for what could be the biggest event in UFC history; let's take a look in case you missed it.
1) Floyd Mayweather restates interest in a Conor McGregor fight; Dana White gets involved.
The Floyd Mayweather – Conor McGregor talk seemed to have died down over the past month or so. While the two parties had traded insults in the immediate aftermath of McGregor's win at UFC 205, McGregor's decision to relax until the birth of his first child seemed to have put any talk to the back burner.
Then on Wednesday, everything changed.
Floyd Mayweather showed up on ESPN, and publicly announced that he was re-attempting to make a boxing match with Conor McGregor take place, and offered McGregor $15 million to accept the fight.
While many labelled the $15m figure as deliberately small, the dust hadn't even begun to settle on Mayweather's comments before UFC president Dana White dove in. Appearing on FS1, White appeared irritated by the entire affair, before amazingly revealing he was now interested in making the fight — under the UFC banner.
"I'll tell you what Floyd, here's a real offer and I'm the guy, I'm the guy that can actually make the offer and I'm actually making a real offer," White said. "We pay you $25 million, we'll pay Conor $25 million and then we'll talk about pay-per-view at a certain number. There's a real offer."
As with the $15m Floyd cited, most pundits disregarded White's offer as low. Despite $25 million being a huge amount of money, to Mayweather who has repeatedly received nine figure paydays, it was simply never going to get things out of the blocks.
"He's a fucking comedian," Mayweather said of White's offer. "Look at that watch I bought. Do you know how much that costs? Look it up."
But perhaps even more interesting is the public valuation White was willing to place on the bout. With Ronda Rousey potentially announcing her retirement any day now, Conor McGregor is the one remaining mainstream star currently active on the UFC roster — and the UFC boss just said he was worth a $25 million payday.
One wonders how that will affect McGregor/UFC negotiations in the future.
2) UFC 209 gets a main and co-main event.
Last week, we finally got confirmation on some long rumoured fights that both looked as if they might not be made.
First announced was a rematch from UFC 205 between Tyron Woodley and Stephen Thompson for the UFC welterweight title. Woodley had seemingly done his hardest to find any other opponent who he deemed more 'deserving', and continued his championship reign staple of taking to Twitter to call out retired veterans.
In the end comments made by Thompson (which described Woodley's attitude as bullying), ended up with the 170-pound champion stop seeking other bouts and accepting the rematch.
"He got under my skin so much, that you know what," Woodley responded. "I'm just gonna go ahead and fight this dude. Like straight up. He got under my skin that bad, that I don't even care about the ration, the money and what fight makes most sense. You need to be careful what you ask for."
Your #UFC209 main event! @TWooodley & @WonderboyMMA square off AGAIN on Mar. 4th! 🎟 ➡️ 1/20 ➡️ https://t.co/LSopIGxINe pic.twitter.com/fMvSGFknYY

— #UFC208 (@ufc) January 10, 2017
Meanwhile in the co-main event, another hard set of negotiations paid off and Khabib Nurmagomedov vs. Tony Ferguson was at last made… for the UFC lightweight interim title fight.
While many fans want to see the two top contenders at 155-pounds face each other, the decision to add the latest in a long line of interim belts seemed to receive many an eye roll. Unfortunately, interim belts seem to becoming an increasingly large part of the sport, with new champions immediately attempting to position themselves into money making super fights.
To put it into perspective, in the 22 years prior to UFC 189, there were seven interim champions made. In the two years since 189 (come March), there has been five.
But, while the added aspect of gold seems unnecessary, there is no denying that UFC 209 has a killer co-main.
Khabib Nurmagomedov vs Tony Ferguson for the interim LW title on March 4 at UFC 209!!! pic.twitter.com/oJwvlDl4eX

— Dana White (@danawhite) January 13, 2017
3) Mark Hunt sues Brock Lesnar, Dana White and the UFC.
In one of the more surprising pieces of news to come out, UFC heavyweight Mark hunt filed a lawsuit against Brock Lesnar, UFC president Dana White and the UFC as a promotion after Lesnar failed a drugs test following their UFC 200 bout.
The suit alleges that "without HUNT's knowledge or consent, the UFC conspired and caused LESNAR, a doping fighter, to fight HUNT, a clean fighter, despite the fact that LESNAR used substances banned by the UFC, USADA and WADA."
While Hunt remains to be booked against Alistair Overeem at UFC 209, it's certainly a strenuous move to put on his relationship with the UFC. And, while it's likely that Hunt is fighting an uphill battle, his decision to take Lesnar and the UFC to task for what he considers an injustice has won the "Super Samoan" major points with fans.
4) BJ Penn returns from retirement and suffers for it.
On Sunday night, BJ Penn finally made his return from retirement against young up and comer Yair Rodriguez. Despite the hope of many fans of 'the prodigy', he simply was unable to wind back the clock and ended up being finished in a rather brutal fashion.
OH. MY. GOODNESS. 💀💀💀@panteraufc demolishes BJ Penn to claim #UFCPhoenix!https://t.co/3wilhSIS36

— FOX Sports: UFC (@UFCONFOX) January 16, 2017
While it wasn't confirmed, it's likely the loss (and the brutal nature of it) means we've seen the last of BJ Penn in the Octagon.
5) Amanda Nunes calls out Holm/de Randamie winner in aim to become a double champion.
After Amanda Nunes destroyed Ronda Rousey back at UFC 207, many felt the winner of next weeks bout between Julianna Peña vs. Valentina Shevchenko would likely be her next fight.
The champion, however, has other ideas.
I'm ready to make wmma history…. I want the winner. @danawhite @ufc @seanshelby vamos Fazer historia no mundo quero lutar com quem ganhar. pic.twitter.com/VQXyp4SCaO

— Amanda🦁Nunes (@Amanda_Leoa) January 15, 2017
Instead, the woman's bantamweight champion has called for the winner of Holly Holm vs. Germaine de Randamie at UFC 208 — who of course would be the first ever UFC woman's featherweight champion.
Just like Conor McGregor before her, Nunes wants to hold two titles simultaneously. Whether or not the UFC would allow her to do that probably depends on how many challengers they can find for the 145-pound division, something that could well provide an issue going forth.
—
Comments
comments