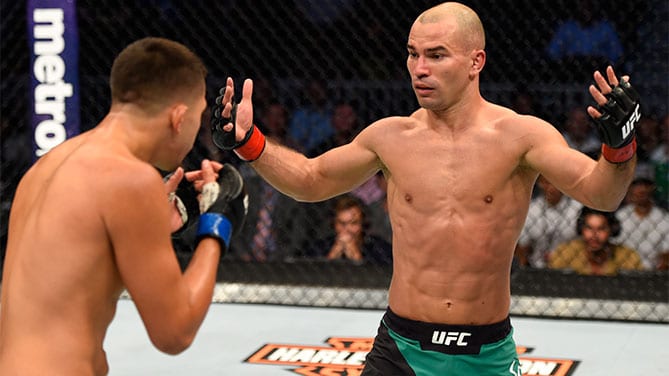 After Artem Lobov's conclusive victory over highly-touted Japanese prospect Teruto Ishihara at UFC Belfast last November, it seemed that The Russian Hammer was finally making some big waves in the UFC.
In his second straight win inside the octagon Lobov dominated his opponent throughout all three rounds, earning a unanimous decision in the process and in the post-fight press conference he wasted no time in attempting to set up his next knock.
"It certainly was one of the best performances [of my career]", Lobov said to the assembled media after the fight. "I always feel that the higher level of opposition I've faced the better my performances get. I look forward to taking another step up. I think I'm going to have an even better performance then.
"A lot of people have said to me about UFC London but if I'm honest, I could probably get another five fights between now and UFC London. Let's do it. I'm free next Saturday."
Despite Lobov's interest in moving things along as expediently as possible, details of his next fight booking have been slow in coming. The UFC visits London on March 18th next and, with that city's large Irish and Russian communities, it seemed a perfect fit for Lobov and just a short trip from his training base in Dublin.
The first name on his call-out list? Cub Swanson. Speaking to TheMacLife.com last month, Lobov said why he thinks a fight with Swanson makes sense for both of them.
"I'm in contact with Sean Shelby and I'm looking for fights but he hasn't given me anyone yet. I've asked for Cub, I've asked for Choi. The only reason I even mentioned those two guys was I saw their fight and was like, 'Wow, that's a great fight. I want me some of that'. When it's a good fight I will always admit it and I will always give praise to the guys. Why wouldn't I want to be involved in one of those fights?
"I just feel that Cub, no matter all the slagging that has been going on with him and Conor, I do like him as a fighter. You can be certain that he's going to bring it. He's going to make it a fight. And I'm going to bring it."
Things have been intensifying on social media between the two and it looks as though Swanson has developed an interest of his own in a potential fight between the two — in what could go down as one of the most crowd-friendly scraps of the year.
Judging by the tweets below, it seems all that is required is a bout agreement to be sent out to these two and UFC London would have another intriguing battle on its fight card.
.@CubSwanson or what??

— Artem Lobov (@RusHammerMMA) February 2, 2017
.@CubSwanson Anyone, anytime, anyplace…This was me from my first day and till my last. Shut your mouth and lets settle this in the cage!

— Artem Lobov (@RusHammerMMA) February 2, 2017
If the UFC can't find me an opponent that makes more sense then I'd love too 🙂 Just go sit by your phone and wait @RusHammerMMA

— Cub Swanson (@CubSwanson) February 2, 2017
.@CubSwanson You mean wait for you to grow a pair??

— Artem Lobov (@RusHammerMMA) February 2, 2017
Comments
comments