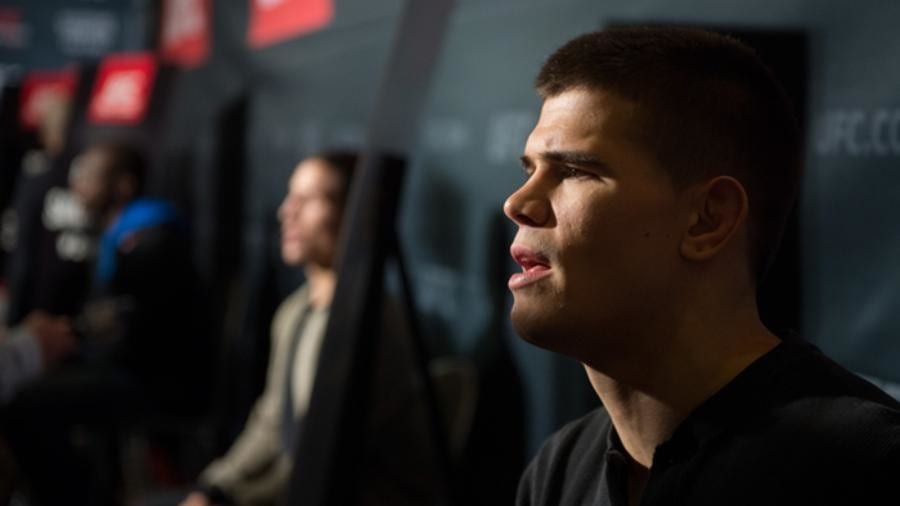 This weekend, UFC returns to Sacramento with a Fox card that plays host to several young up and coming talents in mixed martial arts — and wouldn't you know it two of those are actually facing each others.
Minutes after Mickey Gall handily defeated former professional wrestler CM Punk, he used his moment in the spotlight to call out and challenge fellow youngster Sage Northcutt. The bout was made, and the two are set to fight in the co-main event this Saturday. The call out, Gall says, was completely thought through.
"I had heard he wanted to do his next fight at 170, and if not, I was willing to go down to 155," Gall said, speaking on The MMA Hour. "I'd have a crappy month, I'd have to be very disciplined, but there's a reason I want this fight, man. I know it's a great match up for me, I'm punching up, he's got a lot of hype and attention. I just know I can work him on the feet and on the ground."
Once the bout was booked, Gall even went further to garner attention, challenging Northcutt to make the bout a "hair vs. hair" match, with the loser having to shave their head.
Yo Super Scared Corncutt, How bout a bet: Loser shaves their head? Stop takin selfies & take antibiotics. I'm gonna hurt u @sagenorthcutt 🌽😂 https://t.co/Q81gHrv249

— Mickey Gall (@mickeygall) September 21, 2016
Despite not hearing back from his opponent, Gall is still offering the wager.
"I offered to do the hair bet, loser shaves it, and people seemed to latch on to it," Gall said. "But I don't know man, he hasn't said anything. I'm down, it's hair, it grows back and I'm confident I'm not going to be the one shaving it. I think he's a little worried; I think that shows a little lack of confidence, he's afraid to lose those locks.
"I'll probably bring it up in Sacramento when I see him."
As for the fight itself, Gall sees it as easy work, believing himself to be superior to Northcutt in all aspects of the game.
"Pick your poison, Sage," he said. "I'm going to hurt him either [striking or grappling]. I think I hit him with some shots, he might go to sleep. I get him on the ground, I'm levels above him there. I think my stand up is better than his, I think my ground is better than his.
"I'd like to knock him out in the first, but smart money is I choke him out in the second."
Comments
comments