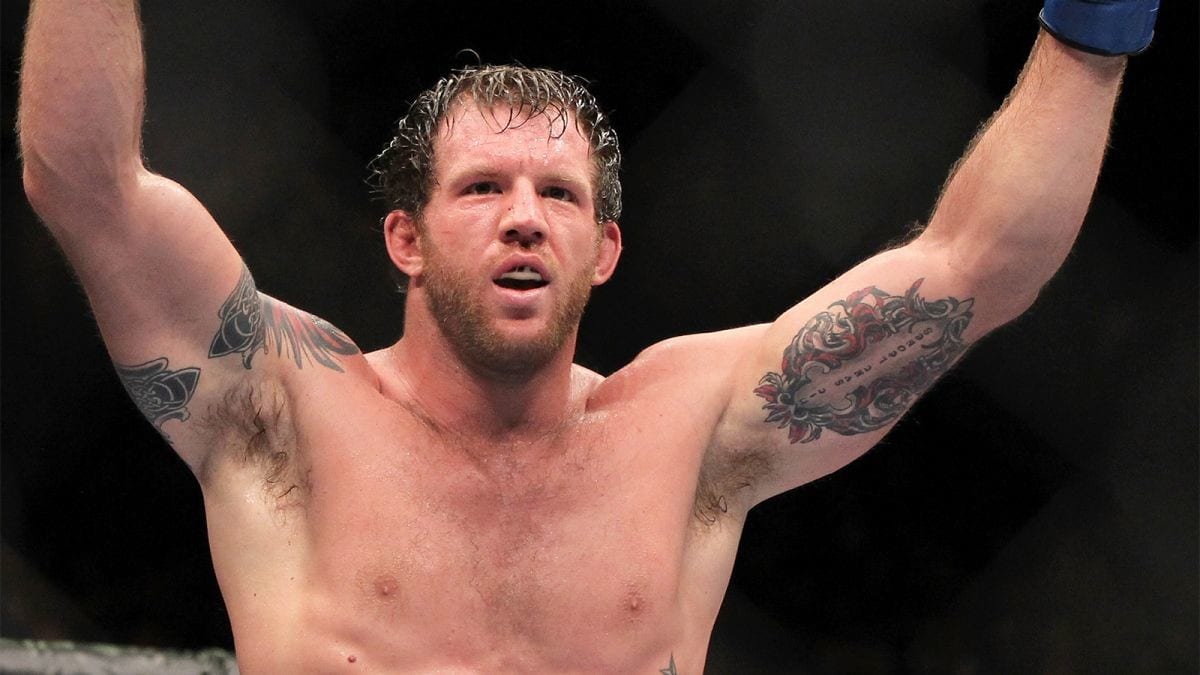 Among the influx of talent to swell the Bellator ranks under Scott Coker, a few recruits can be considered 'blue chippers'.
Rory MacDonald, for example, remains one of the world's best welterweights despite his two-fight skid where he dropped bouts to divisional elite fighters Robbie Lawler and Stephen 'Wonderboy' Thompson.
Phil Davis is another who crossed the UFC/Bellator divide in pursuit of some extra wedge in his pay packet. The former UFC top contender was awarded a shot at the promotion's 205-pound title, which he swiftly won in an unanimous decision from Liam McGeary.
And now, it's looking increasingly likely that Ryan Bader will be the latest UFC fighter to defect to the Scott Coker regime at Bellator.
Bader wracked up a 7-1 record is his last 8 UFC fights, a record of success which left him aggrieved when he was continually passed over in the 205-pound title picture in the UFC. In Bellator it appears his path to championship gold doesn't contain as many obstacles. He already holds a win over Davis from two years ago, which is about as positive omen a potentially newly debuting fighter with title aspirations could hope for but as with anything, the majority of the reasons for Bader potentially switching to Bellator are financial.
Speaking on Monday's edition of The MMA Hour and as reported by MMAFighting.com, Bader said: "I have a Bellator offer coming either today or tomorrow. We kind of know the particulars. I went out and met with Scott Coker and the Bellator boys and I liked what they had to say, and I liked what they were about. So we're going through that process. That being said, the UFC has the right to match. It's kind of in a weird place. I'm super-excited to be in this position. I'm in a great position."
The narrative of fighters allowing their contract to run out and subsequently testing free agency was one of the MMA's dominant stories in 2016. Several UFC fighters, notably Joe Duffy, are known to be considering their options and it was no secret that Bader was doing the same.
"I was going into that [Nogueira] fight…I was soaking up every single minute," he said. "I started off, what, four or five or six fights with local promotions and whatnot, then I went onto the The Ultimate Fighter and ended up winning The Ultimate Fighter and into the UFC and had 20 fights in the UFC. I traveled the world and everything, and going into that fight it was a very exciting time. You know, I was fighting Lil Nog down in Brazil. I was fighting my contract out. I knew it, everybody knew it. So I was kind of soaking in every little moment potentially being my last fight in the UFC."
As with several other fights who have departed the UFC in recent times, the Reebok deal remains a point of contention. In Bellator, Bader would remain free to negotiate his own sponsorship deals; a move which would conceivably provide a big boost to his income.
"There's other stuff than just the money in the terms of the contract," Bader said. "Part of it, and why I actually fought it out, was opportunity, what's the plan, and smart stuff. Obviously sponsors, I took a big hit in sponsors when that whole [Reebok] thing came out. Just little stuff. So when it came time to re-sign, we said, why would we sign? Why wouldn't we bet on ourselves, play this thing out and see what's out there. See what I'm worth, see what opportunities are out there."
Primarily, though, Bader's athletic instincts remain true. He wants a title shot against Phil Davis and is confident that this could be his first booking should Scott Coker convince him to ink a deal.
"I do believe we can [get a title shot]," Bader explained. ""That's another thing, like I said, I keep hitting on the word opportunity and the plan — what's your plan for me? And so, things like that are being discussed. I know [Davis] probably wants to get that win back…that's definitely part of it."
Comments
comments