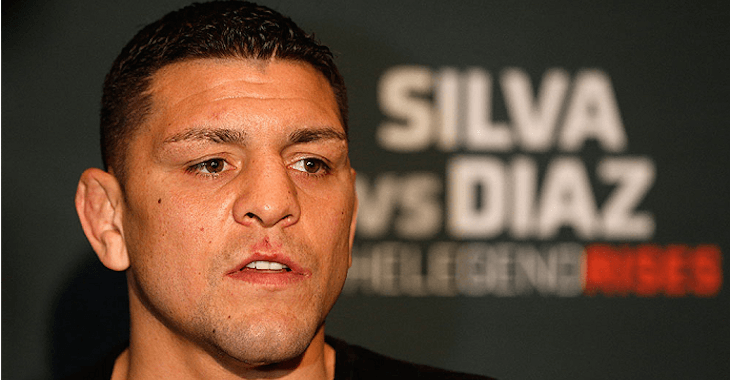 Today marks exactly two years to the day since Nick Diaz competed in the UFC.
On January 31st 2015 the elder Diaz brother faced the returning Anderson Silva, fighting for the first time since the eye-watering leg break he suffered in his second bout with Chris Weidman more than a year prior. Diaz lost the fight by unanimous decision on the judges' scorecards but the fight was subsequently declared a no contest after both fighters failed post-fight drug tests; Diaz for marijuana metabolites and Silva for drostanolone and androsterone.
Following that fight, Diaz was suspended by the Nevada Athletic Commission for 5 years and fined $165,000 for testing positive for marijuana — the third such infraction on his record. The nature of the punishment was deemed overly-harsh by the majority of the mixed martial arts community and, while the fine and ban were reduced on appeal, Diaz is yet to resume his mixed martial arts career.
And the reason he has hasn't had a fight booked yet isn't for a lack of trying.
Speaking on the UFC Unfiltered podcast with Jim Norton and Matt Serra, UFC president Dana while revealed that Diaz was offered a rematch with former welterweight champion Robbie Lawler in what would be a do-over from their first match-up in April 2004 — a fight which Diaz won by second round knockout.
"I offered Nick Diaz the Lawler fight and he turned it down. Lawler accepted the fight", White said.
"Lawler accepted the fight and Nick turned it down so I'm looking for something else for Lawler right now. I don't know [why he turned it down]. They were terrorizing me saying they want a fight and they wanted to announce it that night at the Sacramento card (last December). He was there, it was the right crowd because it was his hometown and he wanted to announce it. I got Robbie Lawler to accept the fight but then I called him and he turned it down. They've been radio silent on me ever since."
In spite of Diaz's apparent reticence to accept a return bout, White also tried to line him up opposite the de facto next challenger for 170-pound gold Demian Maia. The Brazilian submission expert appears to be ideally set up to challenge the winner of the upcoming Tyron Woodley and Stephen 'Wonderboy' Thompson rematch and has said that he is willing to wait his turn until the title picture at welterweight is clearer.
A match between Maia and Diaz, however, could be just the 'money fight' to tempt Maia to take one more bout before his title shot. Diaz, though, remains unconvinced according to White.
"I just reached out to them [again] and suggested a fight with Demian Maia," White said. "I haven't heard back from them yet. If Nick doesn't take it then I'm going to give it to Masvidal.
As ever, things appear complicated in the world of the Diaz's.
Comments
comments