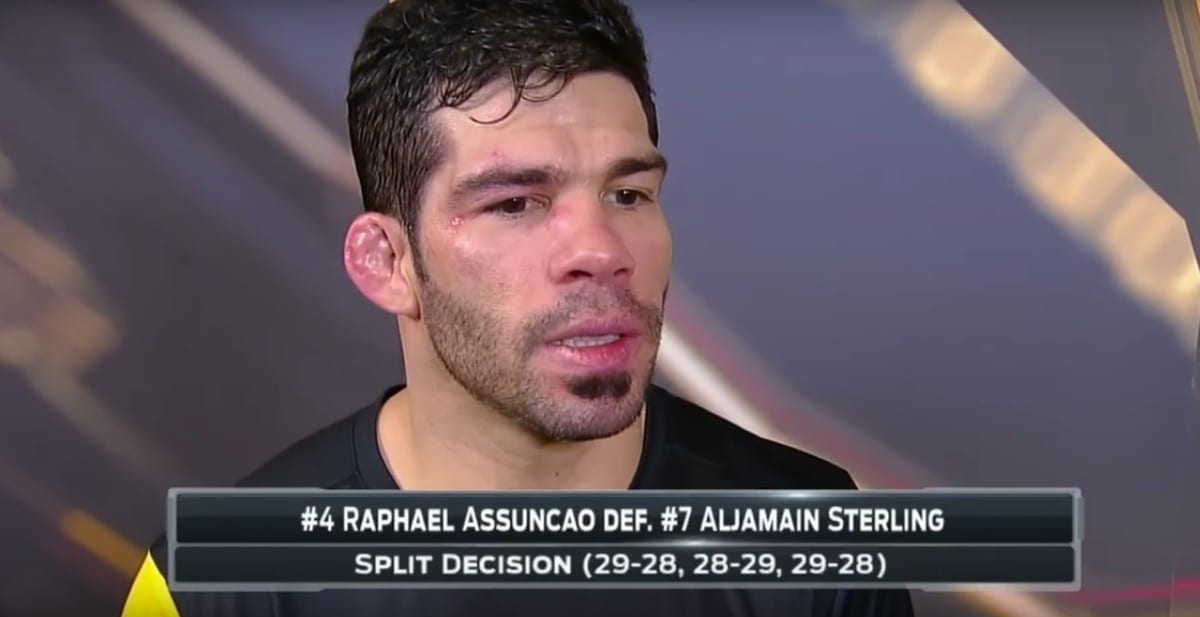 Now that the UFC bantamweight title is no longer around his waist following Cody Garbrandt's stunning performance against him late last December, Dominick Cruz finds himself in the unusual position of being a contender in the division he was once the undisputed ruler of.
With this new territory comes a brand new target on his back. No longer does a fighter have to be the definitive number one contender at 135-pounds to get a crack at Cruz, there is a now a line of fighters forming behind Cruz — all of whom intend on bypassing the former champ to get a shot at the gold once the title picture resolves itself once Garbrandt and TJ Dillashaw meet later this year.
One such candidate is Raphael Assuncao. The Brazilian won a split decision against Aljamain Sterling at the UFC event in Denver on Saturday night and in his post-fight comments, made no secret of the fact that he would like to see himself stacked up against the former champion in his next bout.
Speaking to Megan Olivi, Assuncao said: "I think Dominick Cruz would make a lot of sense. In the top rankings I don't see any other guy. I need to get good consistency in my fight career."
As luck would have it, Cruz was working the Fox desk and as soon as Olivi threw it back to the desk, the former champion was only too keen to respond.
"That's a smart call-out on his part", Cruz said. "The reason is I'm ranked a bit higher than him. I've been more consistent in my career, even with my injuries. He's not ready to see me, I'll tell him that right now.
"It's not a question of will I fight him. I'm here to fight the best in the world. The thing is, I'm ready to fight the guy that has the belt that thinks he is the best. That's who I'm in line for.
"That's not Assuscao, #4 or #5, who thinks he needs to get a string of wins together. He thinks I'm that guy? I'm not that guy. You need to fight someone lower on the totem pole if you want to get a string of wins together. If you want another loss on your record, you fight me."
Cruz signed off by saying that he firmly has his eyes on whoever emerges from the upcoming Garbrandt and Dillashaw scrap with the championship belt.
"I'm fighting for the title when I come back and that's the end of it."
Comments
comments