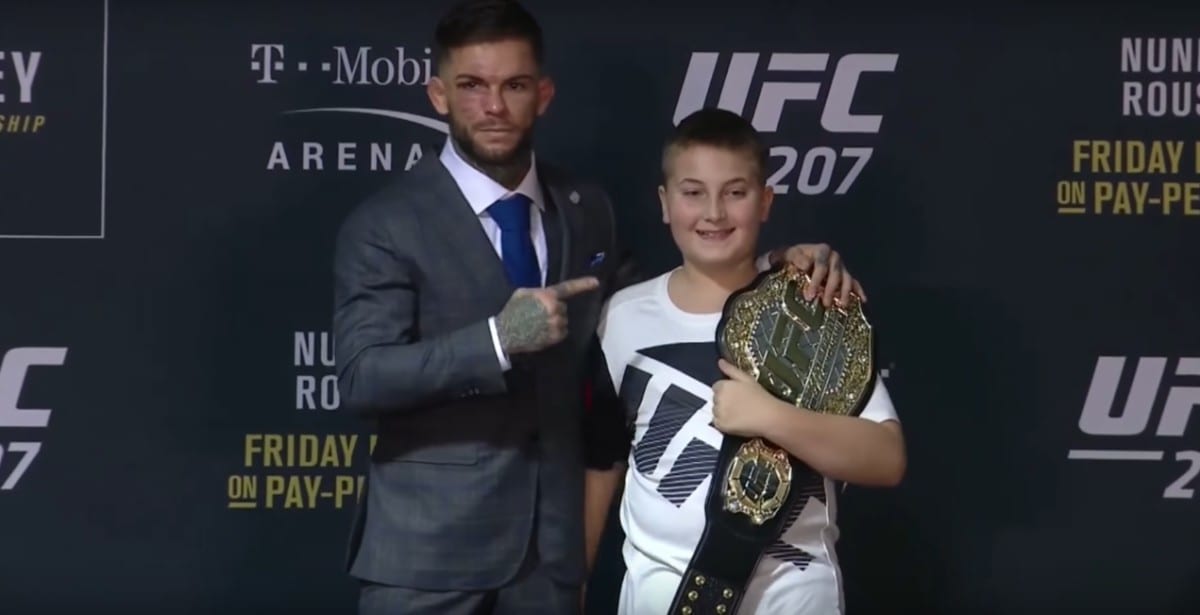 When Cody Garbrandt lifted the UFC bantamweight championship on Friday night after defeating Dominick Cruz by unanimous decision, his thoughts immediately turned to someone outside of the cage.
Years ago, before he was even on the UFC roster, Garbrandt met a kid named Maddux Maple. Maddux was a leukemia sufferer and, inspired by his fight against the disease, Garbrandt made a pact with the boy. Maddux will beat leukemia and Garbrandt will make it to the UFC.
Five and a half years later, Maddux is cancer free and Garbrandt is the bantamweight champion of the world.
Speaking to the media post-fight on Friday night, Garbrandt elaborated on exactly how important Maddux has been to him.
"It was a surreal moment", said Garbrandt of winning the title. "It was something I'll never forget. No matter what happens for the rest of my life, I'm very thankful for this kid. He came into my life in unfortunate circumstances. Most of you don't know, but he was battling leukemia at the age of five years old.
"I wouldn't be here without him. He gave my life redirection and purpose and in return I fought with purpose and lived every day with more purpose. This kid was going through the fight of his life and had a smile on his face. He never gave up — he didn't have a choice to give up.
"The things that I was doing in my life, I was really [pissing] my life away. I could have gone down the wrong path, I kept going down the wrong path. But I believe everything happens for a reason. As crazy as this might sound, he was really a turning point in my life.
"The help that he helped me through my entire life with his battle, he doesn't even understand how much he's helped me, how much I push in practice when I get tired, when I feel like I can't go another round.
"That fourth and fifth round…. I remember I had his dad send me a picture of him laying on the hospital bed with his port put in his chest in his early onset battle with leukemia. I just looked at it [and thought about] how far he's come. What's ten more minutes, you know? What's ten more minutes to go out there and capture this for him.
"It wasn't just about me. I met him and it became our dream and our night, and now it's his night."
Comments
comments