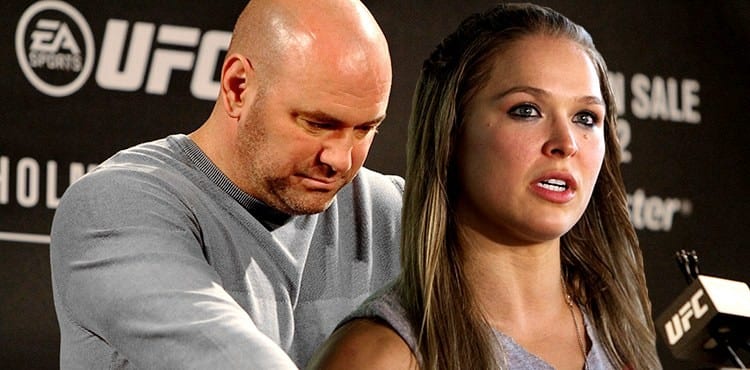 Understandably, Ronda Rousey isn't taking her loss to Amanda Nunes well.
The former bantamweight champion left the T-Mobile arena in Las Vegas Friday night without speaking to any members of the media or to Joe Rogan in the cage post-fight. Because of that, her reaction to the loss is mostly unknown.
But, speaking with pundits after the event, UFC president Dana White gave a small insight into how the superstar was feeling.
"I've been with her the whole time," White said on Fox Sports 1's post-fight show. "Obviously, she's so competitive. She's devastated. She's a competitor."
Rousey is well known for taking losses badly. After her loss to Holly Holm last year, Rousey famously revealed she had suicidal thoughts. While she isn't exactly happy at the moment, White is hopeful the Nunes loss won't have a similar impact.
"She's a lot better than the Holly Holm fight," White said. "She was backstage and obviously she was upset. But she's got a lot of support for her, and I think it'll be a lot better than the Holm fight."
UFC 207 appears to have been a well received event, but there was some controversy going in to the event. Nearly all of the pre-fight media was focused on Rousey's return, and the champion Amanda Nunes was largely put to one side.
Now, with the main event in the books, White stands by the UFC's decision on how to promote the bout.
"Everyone was chirping about the promotion for this fight, it was all Ronda based," White said. "I could have spent $100 million on advertising and nobody would still have known who Amanda was. After tonight, everyone knows who Amanda Nunes is now, OK? Tomorrow morning, ask somebody who Amanda Nunes is, now they know. That's why I'm the promoter and everyone else isn't."
Comments
comments