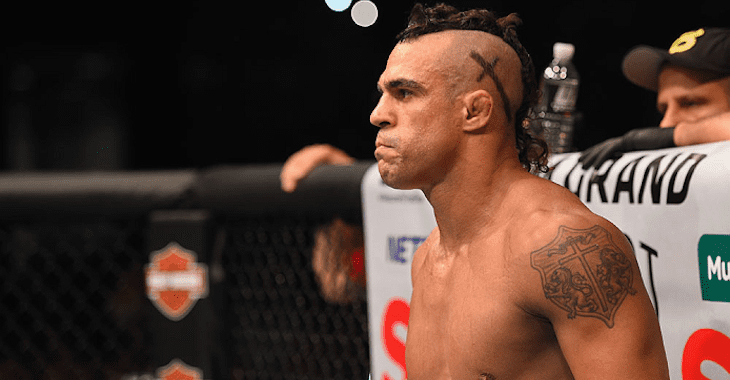 As he nears the end of his in-ring career, Vitor Belfort is starting to pay more and more attention to life outside the cage. One of those aspects, for example, is the manner in which fighters are treated once they leave the world of fighting behind them.
But, while the call for fighter unionisation seems to be stronger than ever, Belfort simply isn't willing to join in unless he can be sure those calling for it have his best interests at heart. The answer to that, he says, is for him to be involved at the highest level.
"I'm a smart guy, and the smartest thing in the world is to not side [with something] if you don't know who's the leader and what are his motivations," Belfort said, speaking with MMAFighting. "I'm glad that fighters that are part of the history of the sport see me this way, but it's important for fighters to realise that it's time to have a fighters' union. There's unions for everything, there's an union even for prostitutes, and we won't have one for fighters? It's time for the athlete to have his union.
"For me to be part of something, I have to be in the leadership. If you just want to use my image, I won't let anyone do that. I don't think we have to go against the UFC. We have to be together and work together. You have to remember that the same way we want to fight for our rights, we have to understand their rights, too. You need to know that.
"And it's not only the UFC; there are several promotions. People talk about the UFC, but it's wonderful for the sport. We are grateful, but there should be a law that benefits every combat sports athlete."
With twenty years of fighting behind him, Belfort (despite numerous controversies) would provide a unique view on the sport today. Being involved in the game for so long could offer truly valuable experience for those attempting to create a fighter organisation. Indeed, Belfort already has some changes in mind.
"I think there should be a health insurance for fighters, they should allow sponsors like the ATP (Association of Tennis Professionals) does, and they should create a league of legends, to bring back fighters fans love. Those would be my three changes," Belfort said. "And get rid of elbows so there would be no blood. Big companies want to be associated with fights if there are no bloody fights."
Comments
comments