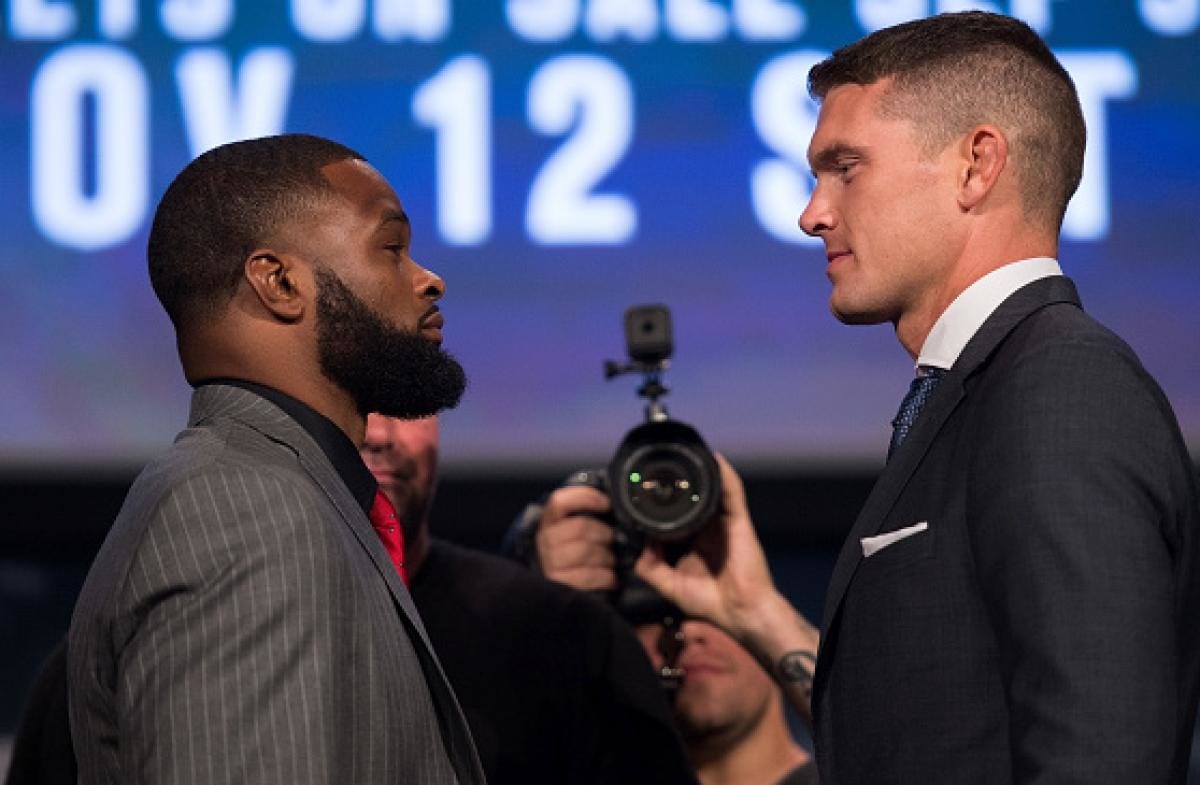 With the rematch between Tyron Woodley and Stephen Thompson finally booked and the two are scheduled to face each other once again, it's beginning to feel like what started off as an innocuous welterweight title fight is become something of a rivalry.
Welterweight champion Woodley and Thompson were both featured on ESPN this morning, and gone was the feeling of quiet respect from the first lead up. Instead, the two had pointed words for each other, even if the two attempted to repeat their appreciation for the other.
"He thinks I'm entitled, that I begged for this fight," Thompson said. "I was given the contract, that was it. I got it in December, I signed it, didn't ask for anything. Didn't renegotiate, just signed it and sent it back. I respect him as a champion, are you kidding? He's the champion for a reason."
"He didn't respect me before I punched him in the face," Woodley responded. "The thing that I feel is every time we do an interview side by side, we so respectful, we so cordial, we so buddy-buddy. And then I look at interviews [and he's saying 'I] don't deserve the title shot. Tyron should relinquish his belt as a champion, Tyron's gonna lose to Robbie Lawler,' explain that to me, how do I need to be a better champion?"
https://www.youtube.com/watch?v=NIVG68Qh284&feature=youtu.be
And, while Thompson stuck by his guns that he simply believed any championship fight that ended in a draw should be repeated, Woodley disregarded that opinion.
Instead, the champion stated that he feels disrespected in the manner the UFC has built up his opponent, even claiming that Thompson's walking out with the United States flag at UFC 205 was a promotional tool.
"Going into this fight, I feel as if Wonderboy was promoted as the champion," Woodley said. "I'm the champion, I knocked out the baddest welterweight in the world in record breaking time, and I don't get the respect I deserve. With that said, don't have him walk out with the American flag like I'm from a different country. Don't have everything revolve around him."
And, as has been referenced in the past, Woodley believes there is a culture in mixed martial arts that, while uncomfortable to talk about, has something to do with race.
"The second I bring up race in sport, everyone says I'm race-baiting," he said. "But I can bring up clear facts that no other champion has been treated like me," Woodley said, emphasising himself that Thompson has nothing to do with said culture. "If I was a different complexion, I think people and fans would treat me a different way."
UFC 209 takes place March 4, in Las Vegas, Nevada.
Comments
comments