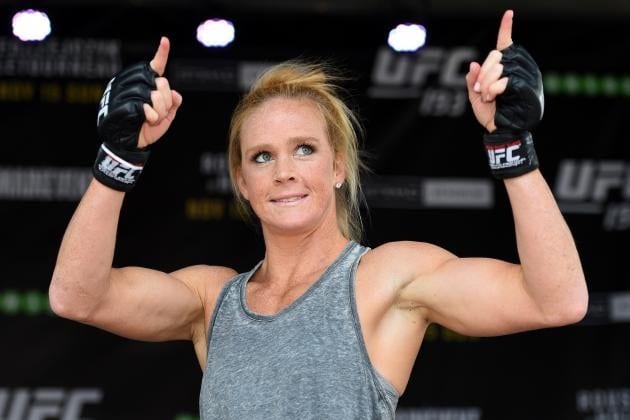 Ahead of her bout with Germaine de Randamie at UFC 208, Holly Holm knows she is on the edge of creating her own slice of UFC history.
The introduction of the women's UFC featherweight title, which was previously considered to be some years away, means Holm gets a chance to mark herself in the record books as the first ever fighter to hold that belt.
But while Holm is excited to have that chance, she knows that by winning the 145-pound title, there is an opportunity to achieve something even greater down the line.
"Right now I can't think too far ahead. Right now there's just Germaine de Randamie at 145, and I'm so excited to have this opportunity," Holm said, speaking on Hot 97. "It is history. It's the first time [the UFC are] going to have this weight class, and I'm very, very blessed to be a part of this opportunity.
"But in a perfect world if I were to write out what my dreams would be, I wanna hold both titles at the same time. Why not? I mean I had [the 135lb] belt at one point. It was taken from me fair and square. I think anybody in their right mind wouldn't want to be gone for good. I wanna be able to fight for it."
Holm will have her chance at history next month on February 11, as UFC 208 takes place in Brooklyn, New York.
Comments
comments