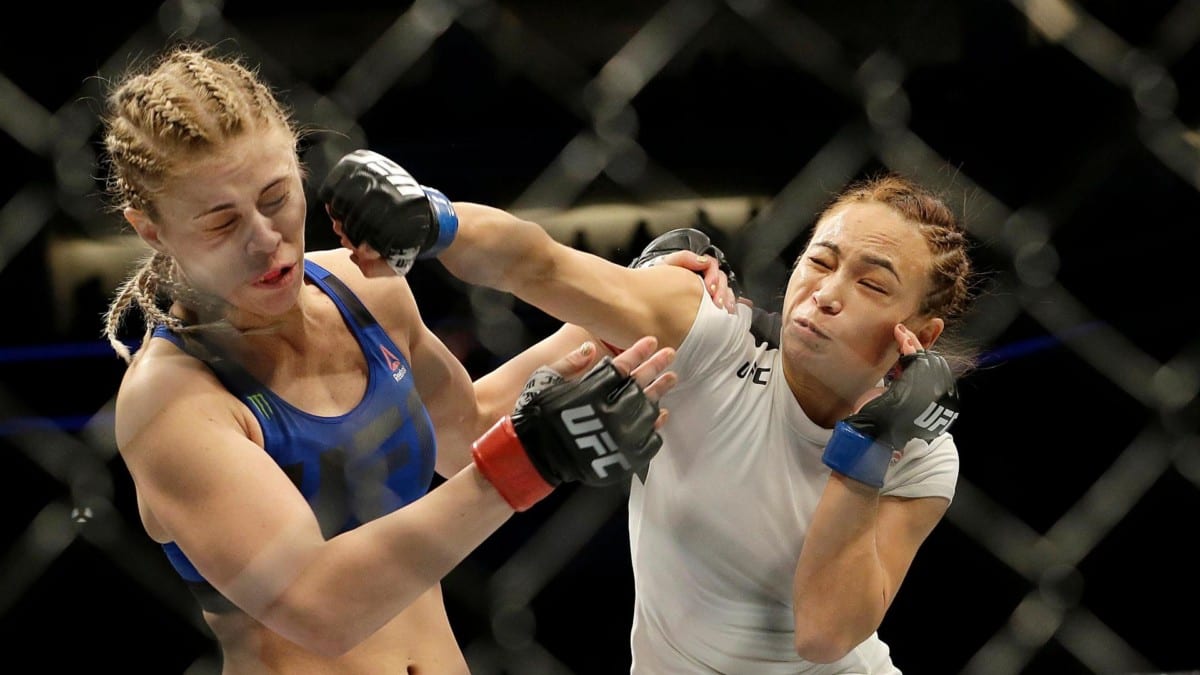 The UFC on FOX numbers are in, and it looks as if the UFC could have a potential star on their hands.
From the moment she entered into the UFC, many predicted that Paige VanZant would turn out to be a marketable asset, something that appearances on Dancing with the Stars only seemed to prove right. And now, she has some concrete figures to back it up.
VanZant headlined the show against Michelle Waterson, and the card garnered an average 3,178,000 viewers. That figure rose up to 4,800,000 during the main event, in which VanZant lost to Waterson via rear-naked choke.
https://www.youtube.com/watch?v=2dkNwNtw5BM
It's the best number for a UFC TV event in just under three years.
The last show to do better was back in January 25, 2014, which was headlined by a lightweight title fight between Benson Henderson and Josh Thompson. That show averaged 3,220,000 viewers — but did have the advantage of being able to bill a title fight.
It shows that, should VanZant improve her skills, she the potential to be a real star in MMA. While her next outing's numbers could be hindered by her loss to Waterson, it's likely the UFC will continue to heavily market the Californian, who will also be looking for plenty of outside exposure.
Indeed, the real issue could be that VanZant seems as interested in other opportunities as she is in MMA, and seems intent on balancing her responsibilities at the same time.
"I was meant for the spotlight and I'm gonna continue to be in the spotlight," PVZ said, speaking post-fight last Saturday. "And I will be back and I'm gonna have the belt one day. I'm 22 years old. I have a long time.
"I feel my opportunities are endless. I'm definitely gonna be fighting for the UFC for a long time. I'm very young; no injuries. So I'm gonna get back into it. But of course if other things come up, I'm gonna pursue those as well. I have a lot of passions in the world and I'm not gonna limit myself to one thing."
While her capitalising on her popularity is a smart thing to do, VanZant's young age and relative inexperience in mixed martial arts could have UFC brass concerned. At 22, her skills have plenty of room to grow, and having time that could be spent in the gym instead spent on other endeavors could hinder her progress. VanZant though, remains determined.
"I have a lot of big things working outside of fighting, so I'm gonna pursue those for a little while," she said. "I definitely need a vacation, so I'm planning that right now. And then straight back to work, back in the gym getting ready for my last fight."
Comments
comments