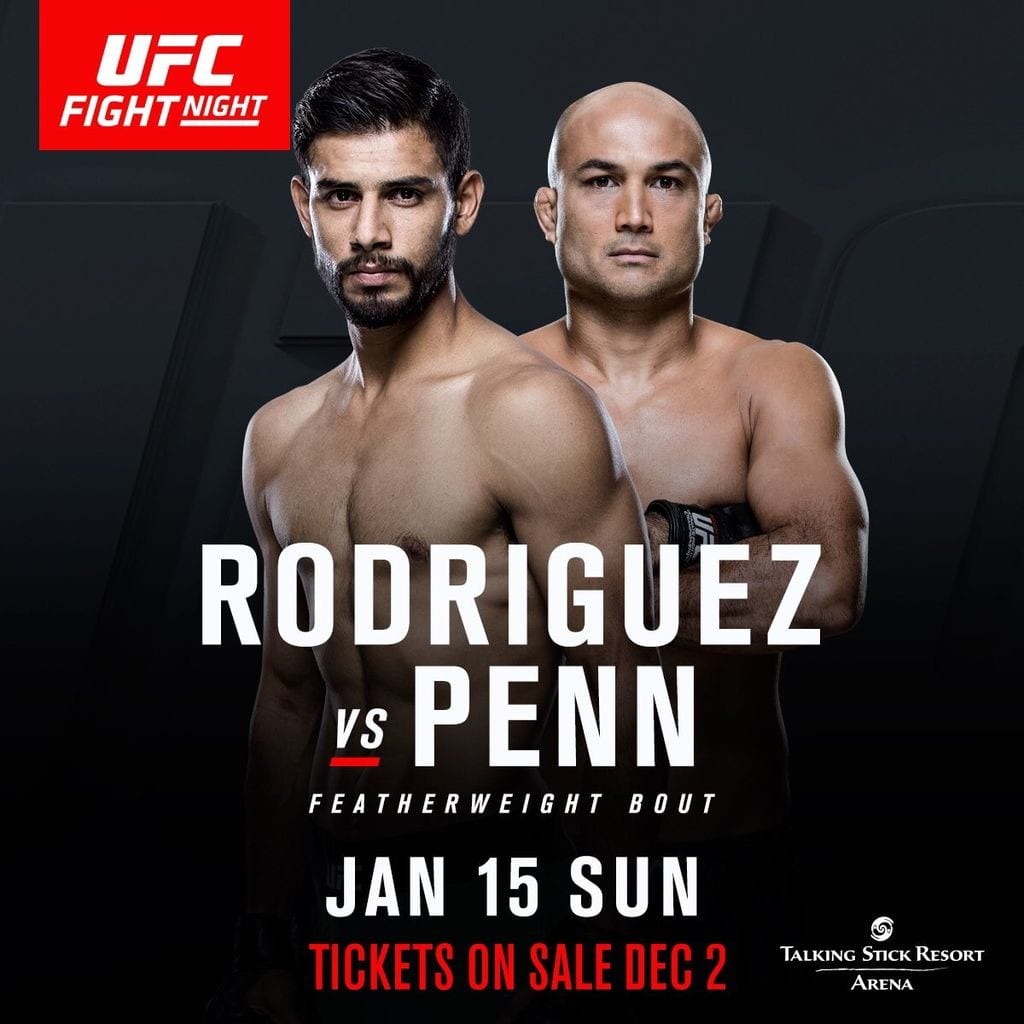 Hosting their first event of 2017, the UFC returns to Phoenix, Arizona with a Fox Sports 1 card that involves the return of a 'prodigy' and a stage for an up and comer to flourish.
Let's take a look at the main card.
Yair Rodriguez vs. BJ Penn
The last time BJ Penn won a fight, Yair Rodriguez had yet to begin his MMA career.
And yet, in 2017, we're set to see the two clash in the main event of a UFC card, with Penn attempting (he says) to start the charge at a world title in a third division. For Rodriguez, it's an opportunity to add a Hall of Famer to his record, and no doubt a chance to face off against one of his idols.
But, all logic points to this being a mismatch.
Penn, a man renowned for his less than stellar attitude towards both training and conditioning, is attempting to return from a lay off of over two years. Combine that with the fact that he looked increasingly worse with every performance leading up to that initial retirement, and you have an understanding of the imbalance here.
Rodriguez is faster, fitter, younger, and fights in a manner that Penn has never faced in his illustrious career. Simply put, while MMA makes liars of us all, Penn is not the world beater we want to remember him as.
Pick: Yair Rodriguez
Joe Lauzon vs. Marcin Held
Lauzon occupies an interesting space in the UFC these days. Repeatedly alternating in wins and losses, the Ultimate Fighter 5 veteran has become a journeyman of sorts. But, by consistently puts on hugely entertaining fights, Lauzon has remained hugely popular in the eyes of the fans, and seems happy to provide a test to those going up the ranks.
In a similar sort of position is Marcin Held. Held made his UFC debut last November after six years in Bellator. Unfortunately for him, however, that debut showing was an unsuccessful one, and he came away on the wrong side of a split decision against Diego Sanchez.
Perhaps that's the best way to view this fight. While MMA math is notoriously unhelpful, Held lost a decision to the same Diego Sanchez that Lauzon dispatched of in moments at UFC 200.
Pick: Joe Lauzon
Court McGee vs. Ben Saunders
The third fight on the main card comes between the two unranked veterans of Court McGee and Ben Saunders. McGee is a wrestler, who likes to grind his opponents to tiring, before usually picking up a win via decision. Saunders on the other hand is more of a striker, and has shown an aptitude in the clinch.
But, this time around, McGee should have the advantage in regards to dictating the area the fight takes place in. Judges decision could well be on the way.
Pick: Court McGee
Sergio Pettis vs. John Moraga
In the cards opening bout is the younger of the Pettis brothers, facing off against hometown boy John Moraga. It's an interesting pairing, with Moraga currently on two losses while Pettis has two victories of late.
The logic behind the matchmaking then, seems to point at building Pettis up. Currently ranked 15th in the Flyweight division, Pettis will be stepping up his competition against Moraga (ranked 8th). While Moraga would be the bigger man, the speed advantage should go to Pettis. While some may point to that speed advantage as the difference maker, don't be surprised if the hometown factor pushes Moraga to turn his fortunes around.
Pick: John Moraga
Comments
comments