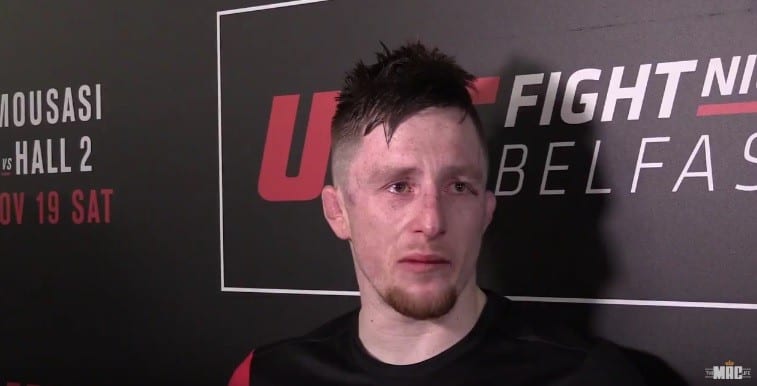 For 23 years there hadn't been a Welsh representative in the UFC. Earlier this month at UFC Belfast, two of them came along at once.
Brett Johns was one of two Welshman who made their Octagon debuts at the UFC's return to Belfast on November 19th (the other being Jack Marshman) where he faced undefeated South Korean Kwan Ho Kwak, a fight he was to win via a convincing unanimous decision.
Johns' UFC debut was the fulfillment of a long held ambition to trade leather with the best fighters in the world but, as the minutes ticked down to his walk to the cage, Johns began to experience the famed 'Octagon jitters' — but a chance encounter with Conor McGregor backstage settled those nerves and sent him to the cage ready to get the job done.
As Johns explained to FloCombat's Jim Edwards, "I'm was just walking out the changing down a long corridor and all these people are shouting at me," Johns said. "There was a camera in my face and I just wanted to burst out crying knowing I was walking to my first UFC fight. They called me to the curtain and Conor McGregor was there just nodding at me. I was little freaked out to be honest with you.
"I think he was trying to get to the changing room, but he had to wait there for me to walk past him. It was just when I was about to walk out and I looked over and there he was. He was just nodding his head as if to say good luck and all the best. That was the first time I'd seen Conor and I freaked out a little bit to be honest. Anyway, I walked out with a spring in my step after that."
15 or so minutes later, Johns had his first UFC win under his belt and, as displayed in the post-fight media scrums, the Welshman was full of emotion — and even more so when he bumped into McGregor once again.
"Believe it or …. you probably won't believe me …. but I've got no actual memory of one hour after the fight," Johns said with a little hesitation. "I was just so high and emotional on adrenaline I was like a little kid. I must have cried like 30 times that day."
"Anyway, once I'd pulled myself together and I was leaving the venue I saw Conor McGregor again. I was just like wow this is the moment, this is the guy who has done the Celts a big favor so I just went straight up to him and he couldn't have been a nicer guy.
"He was "man I'm delighted for you, I thought you were excellent", I was just like wow–like totally star struck you know. I did wonder whether I'd taken too many punches to the head and asked myself whether he was a fake or what not, but it was really him."
"[It was] definitely the best night of my life and the best thing about it is there are plenty more of them to come."
Comments
comments