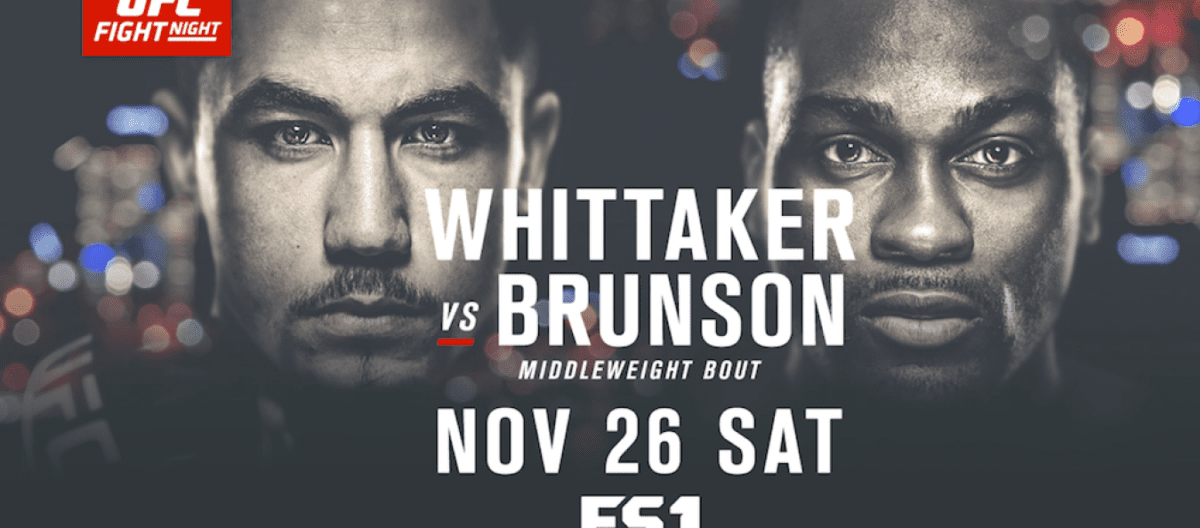 Last weekend the UFC visited Northern Ireland and Brazil in the same day and this weekend they continue their travels as the UFC heads back to Melbourne, Australia, with a card packed full of local talent, writes Jason Sutcliffe.
A year ago UFC 193 rolled into town on the back of the some serious star power. Ronda Rousey and Holly Holm left the fight world in shock. Joanna Jedrzejczyk defended her belt and local superstar Mark Hunt smashed Antonio Silva. This time the UFC is marching back into town on the back of local talent Robert Whittaker, accompanied by seven other fighters from the Australasia region.
The card was originally supposed to be headlined by the Luke Rockhold and Ronaldo "Jacare" Souza rematch. After Rockhold was removed from the card due to injury the UFC bumped Whittaker and Derek Brunson into the main event slot, a huge opportunity for both fighters.
It should prove to be an entertaining card. The local fighters will be eager to put on a show for the home town crowd.
See below for our official predictions.
Robert Whittaker vs Derek Brunson
This is the first main event fight for both fighters and a huge opportunity to make a statement in the middleweight division. Whittaker and Brunson are currently ranked 7 and 8 respectively and looking to set themselves up for a top 5 opponent with a big win.
Over the last two years these two middleweights have been matching each other stride for stride. Both are carrying a five fight win streak and marching their way up the middleweight ladder. Now it is time for one to suffer a set back, while the other secures a top five opponent and moves one step closer to a coveted title shot.
Two years ago Whittaker decided to make the jump from welterweight to middleweight and it's worked out well for him. After four straight wins at middleweight his stock has arguably never been higher. A win over a ranked opponent like Brunson would almost definitely secure him a top five opponent. He has a challenge ahead of him, Brunson is a big mountain to climb. Brunson's last loss came to Yoel Romero – a fight he was winning going into the third round – since then he's put together an impressive five fight win streak, with four first round KO stoppages in a row. If Brunson can pick up another stoppage in spectacular fashion he could easily find himself in a number one contender fight .
The Pick: Brunson is walking into hostile territory against a more technical striker. However, the power advantage will likely tips in his favour. He's going to need to close the distance and back Whittaker up against the fence. Scoring a takedown or two is going to be huge. Expect Brunson to use his size and wrestling to bully Whittaker against the cage. From there his power advantage should shine through and lead him to victory. Brunson by second round TKO.
Jake Matthews vs Andrew Holbrook
These two lightweights are both coming off a TKO losses and are looking to get back on the right track. Between the two of them they have only gone to decision once in the UFC, so a finish would be a good bet in this one.
Matthews will be competing in front of the Aussie crowd for the third time, so he'll likely have little issue with hometown nerves. He's an aggressive fighter who has yet to go to the judges in the UFC. He has stoppage victories in all three rounds, so he will be dangerous the entire fight. He is looking to bounce back following his TKO loss in July. Expect him to come out looking for the kill.
Holbrook is walking into hostile territory. The lightweight is 1-1 in the UFC and is looking to bounce back from his own TKO loss on the same card in July. His fighting style isn't a mystery. He starts fast and has strong grappling skills, with a variety of chokes he uses really well. Nine of his 11 wins have come by submission and eight of them in first round.
The Pick: Matthews has decent power and the striking advantage. I expect Holbrook will utilize head movement as he closes the distance, preventing any significant damage. Working the clinch and ultimately taking the fight to the ground. Once it hits the mat he should have a sizable advantage. Holbrook by second round sub.
Kyle Noke vs Omari Akhmedov
This could be a pink slip fight for both fighters. Both are coming off back-to-back loses against middling competition and need to get back in the win column
This is a fun fight for the fans. Kyle Noke is a UFC vet and fan favourite, who finds his way onto every card in Australia. Neither fighter is going to make a splash in the welterweight division, but both show up to fight. This one should get a rise out of the crowd leading up to the main events.
Noke who picked up the nickname "KO", is a good striker with knockout power. He is coming off two loses and is 5-5 in his last ten, but picked up victories in his last two fights in Australia. His opponent Omari Akhmedov is 3-3 in the UFC and in desperate need of a victory if he wants to stay with the promotion. He is coming off two TKO loses to unranked opponents. Knowing that he's hittable and can be put away, it feels like he's being fed to the wolves.
The Pick: The fight should be close early, but end quickly. Anything can happen, it's a fight, but I think the crowd is going to love this one. Noke round 2 TKO.
Yusuke Kasuya vs Alex Volkanovsi
Aussie native Alex Volkanovski will make his UFC debut in front of his hometown crowd. Not much is known about Volkanovski, but he hasn't lost in two-and-a-half-years and has only gone to decision twice. He is clearly a power puncher as 8 of his 13 wins have come by KO, five of them in the first round. Expect him to come out swinging with bad intentions, looking to make a solid first impression on the UFC brass.
Yusuke Kasuya has had one fight in the UFC and it didn't go his way. He is 3-1-1 in his last five and favours his submission game. Expect him to come out and try to get the fight to the ground immediately.
The Pick: Volkanovski round 2 TKO
Khalil Rountree vs Tyson Pedro
Tyson Pedro, another Aussie born fighter will make his UFC debut in Melbourne this weekend. The undefeated light heavyweight is 4-0, with four first round stoppages and ranked the #2 light heavyweight in Australia and New Zealand. His ground game appears to be legit with his last three victories coming by submission.
Khalil Rountree was a contestant on Season 23 of the Ultimate Fighter. He lost in the second round by first round submission. He's a powerful striker with two of his four wins by knockout. He's most dangerous in the first couple minutes of the fight, his two knockouts have both come in under two minutes.
The Pick: I think this fight will hit the ground early and Rountree's submission defense will get shredded. Tyson Pedro round 1 Sub
Danielle Taylor vs Seo Hee Ham
Danielle Taylor is the former King of the Cage strawweight champion. She lost her UFC debut after taking a short notice fight against Maryna Moroz. Taylor has a short and compact frame, which gives her unusual knockout power for her weight class. She possesses a powerful left hook and isn't afraid to take a shot in order to land one.
Her opponent Seo Hee Ham has three UFC fights under her belt. She is 1-2 and all three fights have gone to decsion. She has an exciting fighting style and is coming off a great fight with Bec Rawlings. It will most likely be a stand up war between these two ladies.
The Pick: Danielle Taylor Decision.
Comments
comments