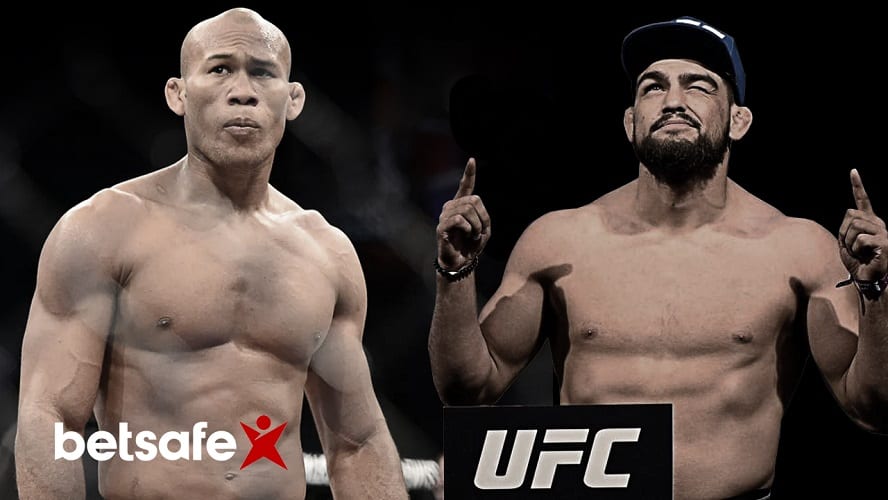 After the biggest win of his career last November against former Middleweight kingpin Michael Bisping, Kelvin Gastelum could move one step closer to a title shot with a win against the second-ranked 185-pound fighter in the world Ronaldo 'Jacaré' Souza.
Gastelum, who was hesitant to even compete at middleweight but whose hand was forced after a series of issues making weight in the welterweight division, has enjoyed an impressive beginning to is 185-pound career in the UFC. In his first middleweight bout three years ago Gastelum forced former title contender Nate Marquardt to retire on his stool at the end of the 2nd round. After two more attempt to resurrect his welterweight career, Gastelum once against settled one division north where he TKO'd the notoriously difficult to finish Tim Kennedy.
Next up was first round knockout of Vitor Belfort (which was declared a no-contest after Gastelum tested positive for marijuana), a performance which showed that Gastelum's brand of technical power strikes is a match for anyone in the division — as Bisping found out early in their meeting in China last November.
However, Gastelum's one true loss on his recent run shows some problems which Jacaré will happily take advantage of. In his loss to Chris Weidman last July, Gastelum showed one of the reasons why he considered himself a welterweight in the first place, namely that he was controlled on the ground by a larger, superior grappler.
This is what the Brazilian submission expert will bring with him into the cage this Saturday. Few mixed martial artists are as uniquely skilled on the ground as Souza and if the fight takes place in his wheelhouse (as so many have done before) if will be a tough ask for Gastelum to mount a challenge if he is continually placed on his back with a world class BJJ player in his guard.
As Jacaré's career has progressed he has appeared to become more reliant on his striking. Nine of the Brazilian's first ten career wins came by way of submission, but two of his last three wins came as a result of strikes and if he opts for a stand-up strategy against Gastelum, one of the division's more powerful strikers, he could be waking up looking at the house lights before he knows what happened.
Souza is currently listed as the favourite by Betsafe, though Gastelum is very live underdog.
THE PICK
This depends upon which of the two fighters is able to implement their strategy sooner. Gastelum will be a danger on the feet, especially early, but the more likely scenario is that Jacaré takes Gastelum out of his comfort zone and grapples his way to a unanimous decision win or a late submission.
Comments
comments