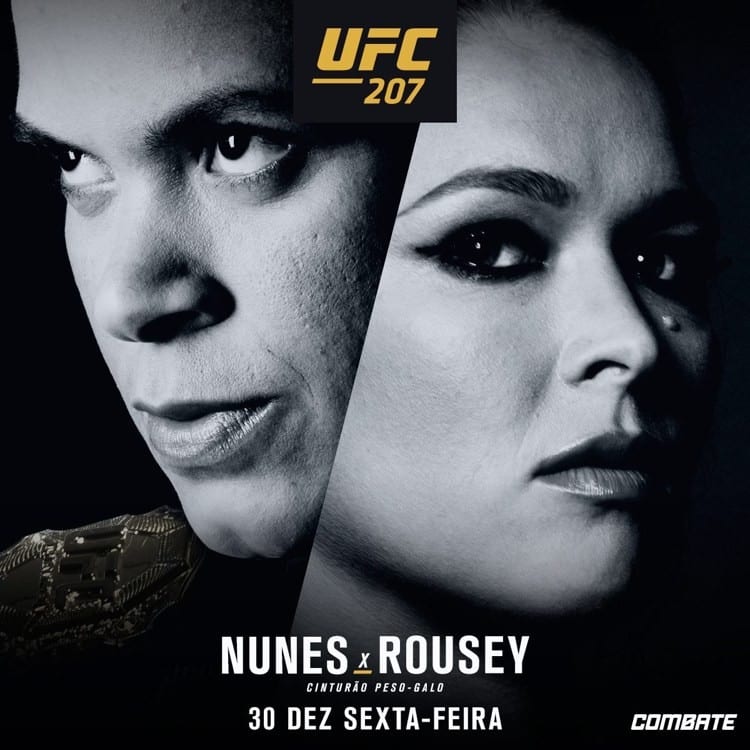 As UFC 207 approaches, it's time to examine the UFC's end of year card. With 2016 being one of the most exciting (and likely important) years for the sport of mixed martial arts, everyone is hoping for an incredible event to send us into 2017 with a bang.
With a cracking couple of main events, it seems the promotion is aiming to do just that, and, as such, here are the picks and predictions for UFC 207:
Amanda Nunes vs. Ronda Rousey
In the main event, we have the headlining act between Brazilian 135-pound champion Amanda Nunes and one of the most popular fighters in MMA history, Ronda Rousey.
The fight game, so often declared as "90% mental" can often be full of unquantifiable aspects, and never more so has that been the case here.
Rousey, a woman who had previously seemed so unshakable, has more questions about her mental state than many others have had to face. Her decision to shun and resent the media, as well as rumours she needed to be consoled after facing off with Nunes at their first staredown haven't done much to placate the speculation.
But Rousey's skills are undeniable, and while it seems an age since they've been proven, it's important to remember the Olympian who carved through the women's 135-pound division best in spectacular fashion nearly every time around.
In Amanda Nunes though, she faces a tough challenge.
A phenomenally heavy-hitter, Nunes has shown her willingness to get into the pocket and swing for the fences — something few of her opponents are able to handle. And, since the topic of mental attitude is repeatedly being brought up, Nunes is more than capable in that department, having shown nothing other than a fiery passion for her career.
In the end, while many will point to Rousey's absence as a sign of weakness, I wonder if her decision to remain hidden won't turn out to be a wry decision from the former champion, and a performance unhindered by outside distractions could be on the way. If Rousey returns as the Rousey we ought to remember; she'll win.
Pick: Ronda Rousey
Dominick Cruz vs. Cody Garbrandt

In the co-main event, it's a personal affair as Cruz takes on (yet another) member of Team Alpha Male in Cody Garbrandt. As the fight has approached, verbal needling by Cruz seems to have angered the younger Garbrandt, and the Ohio native has responded in kind.
As for the fight itself, it seems a simple question; will the agility and movement of Cruz mean that Garbrandt can't connect, or will Garbrandt be able to land one of his heavy punches and knock-out the champion?
There could also be another aspect. Team Alpha Male founder (and long time Cruz rival) Urijah Faber made a point to note Garbrandt's wrestling background in an interview not long ago. While it could have been promotion for his fighter, it could also have been an insight into the game plan going in. Garbrandt could attempt to use more wrestling than stand up in order to surprise the champion, and that could be something of a game changer.
In the end, while it is entirely possible that Cruz will be able to avoid everything Garbrandt can offer for five rounds and win the decision, I'm personally feeling an upset could be on the cards, and Garbrandt will connect early for the surprise finish.
Pick: Cody Garbrandt
T.J. Dillashaw vs. John Lineker
In a way, this bout is much the same as the co-main event.
In one corner, we have Dillashaw, a man constantly moving who will be attempting to avoid the hard-hitting raw power of the man in the other corner, John Lineker.
While Lineker's last fight showed he has enough cardio to push the pace over twenty-five minutes, this is a three round bout, and over the shorter period Dillashaw has enough tricks in his repertoire to avoid the firefight and get the decision win.
Pick: T.J. Dillashaw
Dong Hyun Kim vs. Tarec Saffiedine
After Cain Velasquez was pulled from the card, the UFC elected not to find a replacement to face Fabricio Werdum, and instead promoted Dong Hyun Kim and Tarec Saffiedine to the main card.
It's a close fight at 170-pounds, but Hyun Kim could well have the edge. His record at welterweight is underrated, and he even owns a win over Nate Diaz. In fact, his only losses seem to come to the very elite (such as Demian Maia, Carlos Condit and Tyron Woodley). In comparison, Saffiedine, who went on great five fight win streak two years ago, seems to be slightly sliding as he hit 30-years old.
Pick: Dong Hyun Kim
Louis Smolka vs. Ray Borg 
Two lads on a loss here, as both men look to rebound with a win on Friday. While this (as with the Hyun Kim-Saffidine bout) is something of a pick 'em, I think Smolka gets the definitive win here. His record is just stronger than Borg's, and I think he has more to offer at this point than his younger opponent
And with that, enjoy the Friday night fights.
Comments
comments