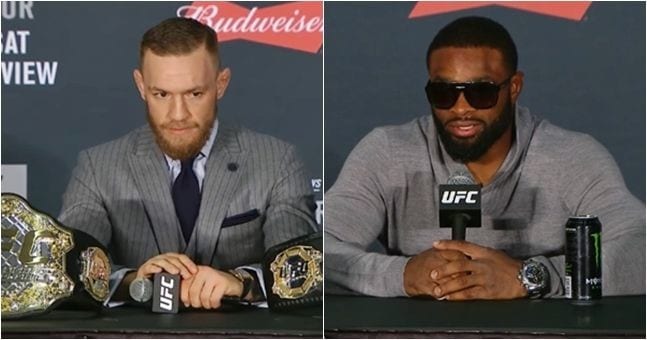 Conor McGregor's historic moment in the cage when he held two belts above his head was almost missed out on. After knocking out then-lightweight champion Eddie Alvarez in the second round, there was notable commotion with McGregor and UFC brass in the ring after they only brought the single belt to award him.
So, with the Irishman bellowing into the Garden's microphone his demand of the second belt, UFC staff were sent hurriedly backstage to find one. Eventually, it was produced, and McGregor had his crowning achievement properly celebrated.
But where the belt came from was something of a surprise — a certain welterweight champion, Tyron Woodley.
"I'm a good businessman," Woodley said, speaking on The MMA Hour. "I love Reed Harris [UFC Vice President of Athlete Development]. Reed Harris is the man. He's always shot me straight, good or bad, and I love Reed Harris. Reed is the one who that, his hands grabbed the belt, took it to the cage…Reed Harris is the man. I love Reed Harris."
The reason why the situation seems quite so bizarre, is that Woodley and McGregor had engaged in some back and forth in the two days leading up to fight night. After a tense face off at the weigh-ins, the two then hurled verbal barbs at each other backstage. With that in mind, it almost seems even more odd that Woodley would be willing to hand over his gold to the Irishman.
Still, despite those altercations, Woodley maintains that he didn't have much of a problem with helping the UFC and McGregor out, even if it did cause him some aggravation.
"I was a little frustrated that at that current moment that they needed it, because I needed to take my pictures — you know the pictures they take behind the stage if you win?" he said. "I wasn't able to do those pictures because they wanted me to take it without the belt. And it would be a cold day in hell before I'd take any other picture without the belt or come out of the blue corner again. I didn't get a chance to take those pictures because that moment was going on."
While the act was indeed a nice moment of charity (one that according to Woodley reflects his personality), the 170-pound champion is still hoping for more than just a 'thank you' from the panicked UFC bosses who took the belt from his hands.
"The told me how great of an individual I was that I would be willing to do something like that. Especially after all the wolf tickets that was sold by Conor McGregor, that I would be willing to ever do something like that, and that it just shows the kind of man and character I am. But I've been making some calls, and hopefully they financially express their gratitude as well."
Comments
comments