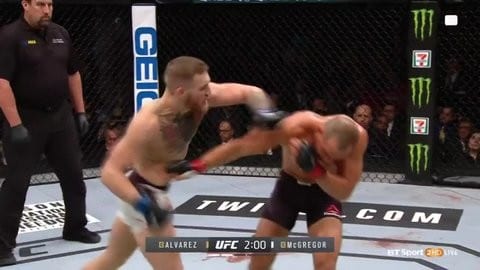 He said it was going to be done from the moment he entered the UFC but in the end, it took Conor McGregor little more than eight minutes to seize the UFC Lightweight title from Eddie Alvarez in the main event of the most anticipated mixed martial arts card ever assembled.
In doing so, and on the 23rd birthday of the organisation, McGregor became the first dual champion in the UFC's history – an accomplishment which isn't lost on his defeated opponent and Eddie Alvarez has taken to his Instagram to offer his congratulations to McGregor and his camp for their record-breaking achievement.
"Congrats to Conor and his camp for an amazing achievement. These guys continue to deliver, hats off to you fellas", Alvarez wrote.
"As for my performance, the only thing I can honestly say is I fucking blew it. I did nothing I trained. I did the exact opposite of what we trained on a daily basis for 10 weeks."
"To sum up our plan in a sentence it 'Go left and mostly wrestle'. Instead I circled to his left hand and mostly boxed. Fighting the way I did was for sure a death sentence and the result was fitting. I say it all the time, there is a really small margin for error in this sport and I paid for my mistakes.
"I managed to make it to the biggest stage and audience in my long career and I fucked it all up when I arrived. My heart sincerely hurts and when I dwell on it I fill up with regret and anger. If there is a list of what not to do against an opponent of this nature then I did them all on Saturday."
The former champion wasn't given the slightest opportunity against McGregor last weekend. The then-champion was dropped several times in the opening minutes in a performance that has been hailed as among the most impressive in UFC championship history.
Alvarez's wrestling-heavy strategy, which he had perceived by his camp as being the key to defeating McGregor, was entirely nullified by his inability to close the distance and get within grappling range of the Irishman. However, McGregor's footwork and movement meant that anytime Alvarez attempted to get close to his opponent he was met with a barrage of strikes.
And, as McGregor himself would say, no one can take that left hand shot.
You can read Alvarez's full statement below.
Comments
comments