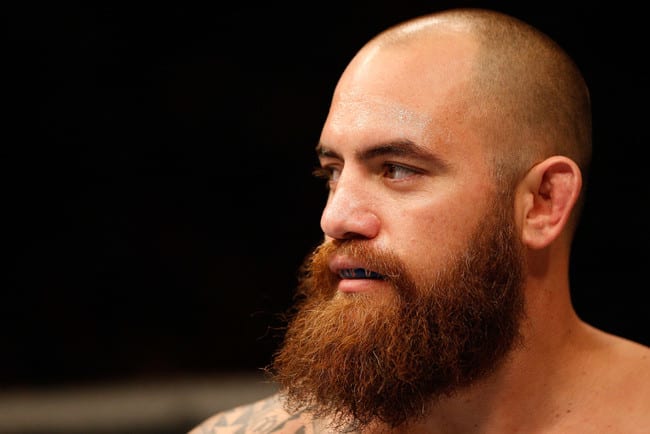 When Ronda Rousey lost to Holly Holm and Amanda Nunes, a monumental amount of criticism was placed onto her coach Edmond Tarverdyan.
Fans (as well as other fighters and coaches) felt that his coaching had been a contributing factor in the downfall of Rousey's success, and his overpraising of her boxing skill had made her too comfortable in an aspect of the game she hadn't fully developed.
To emphasise their point, many looked at fellow Glendale student UFC heavyweight Travis Browne, another athlete who isn't going through the best of times (he has lost 3 of 5 in his bouts under Tarverdyan). And when shortly after Rousey lost to Nunes at UFC 207, Browne was seen training at locations away from the Armenian coach, many figured he had 'seen the light' and moved away.
According to Browne however, all the backlash Tarverdyan (who Browne still considers his head coach) is unfairly placed.
"I think it's easy to judge from the outside," Browne said, speaking on ESPN's 5 rounds podcast. "Anybody that I've ever had in camp, to work with me as a training partner, they are always like, 'Man, Edmund knows what he's talking about.' He has a great fight IQ and he has great coaching. It's about the athletes going out there and performing. Every coach has lost. Every champion, with the exclusion of Jon Jones, has lost. Why didn't the community come down on those coaches? Where was everybody then? Why are you singling him out? It isn't fair.
"So I went to Edmund and started learning specifics of the sport, but then, in my own mind, I look back now, I started to depend too much on my skill level and not use my athletic ability. So now I'm sitting here after the Werdum fight thinking, 'What the hell is going on?' I need to go back to being athletic as I'm going to be but also using the skill set that I've learned over the years and incorporating it all."
Browne will headline the upcoming UFC Halifax event against Derrick Lewis on February 19 in Nova Scotia, Canada.
Comments
comments