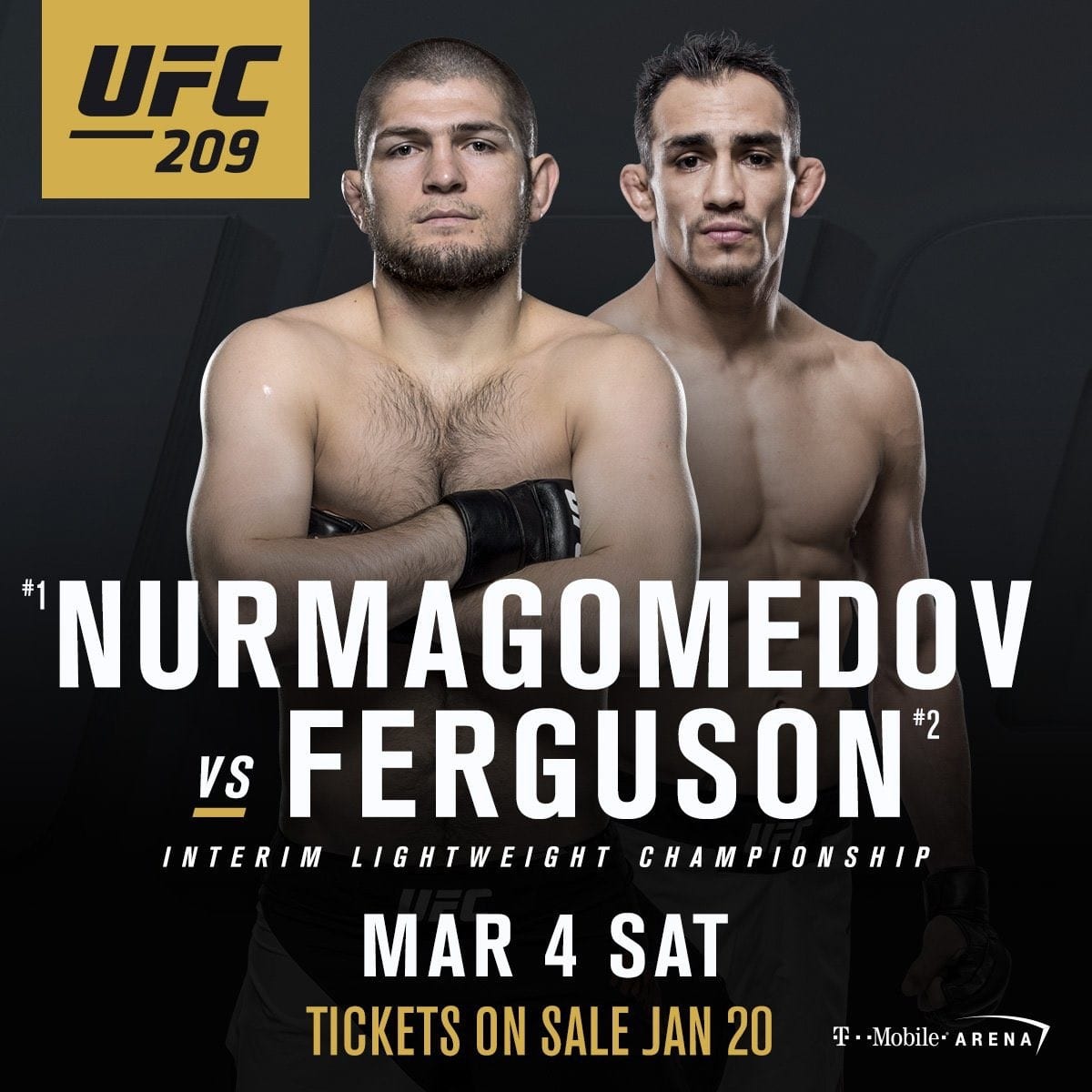 Tony Ferguson and Khabib Nurmagomedov are finally set to square off at UFC 209, March 4, for the UFC interim lightweight title. The news confirms rumours that the long standing public negotiations between the two parties and the UFC would soon be coming to an end.
Dana White announced the bout on Thursday night.
Khabib Nurmagomedov vs Tony Ferguson for the interim LW title on March 4 at UFC 209!!! pic.twitter.com/oJwvlDl4eX

— Dana White (@danawhite) January 13, 2017
While there had been some reports that UFC featherweight champion Jose Aldo would be moving up in weight to receive a shot at 155-pound interim title, it now appears the hold-ups for a Ferguson/Khabib bout have been solved, and the Brazilian will no longer be involved.
In fact, at one point Nurmagomedov vs. Ferguson had actually seemed as if it were nearly off the table, with Khabib claiming he was moving on from Ferguson who — according to UFC President Dana White — was asking for too much money to take the bout.
Eventually, however, it's understood that Ferguson and the promotion came to a middle ground.
Ferguson and Nurmagomedov actually have something of an embittered past. The two have certainly had plenty of harsh words for each other over the past few months, and at one stage, Nurmagomedov even offered Ferguson $200,000 dollars of his own money to accept the bout. Indeed, UFC 209 is also not the first time they've been set to meet, and this is now the third time the two have been scheduled against each other, although it's the first time a form of gold has been on the line.
And of course, the introduction of yet another interim title continues to raise questions of the UFC's new direction.
Conor McGregor, the current lightweight champion, has previously said he intends to return after the birth of his child in May next year and, with a recent title fight in December, could be back in the cage in just six months — plenty of justifiable time for a champion to take off.
UFC 209 takes place in Brooklyn, New York on March 4.
Comments
comments