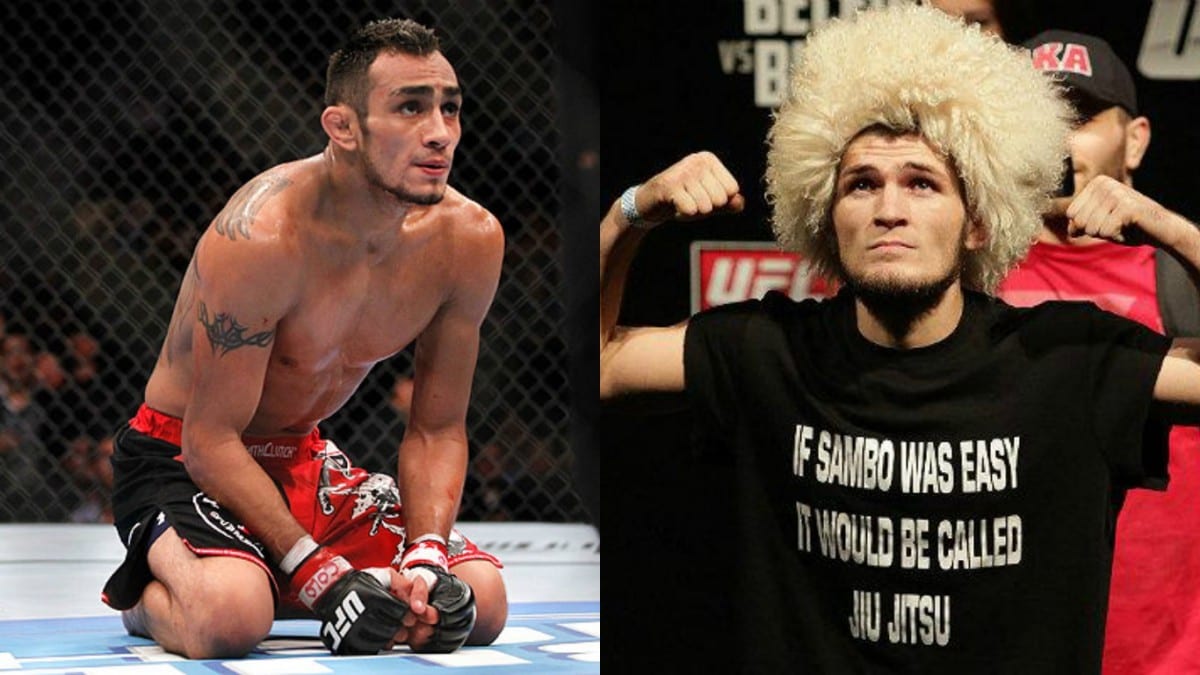 On Monday's edition of The MMA Hour, UFC lightweight contender Khabib Nurmagomedov made a very unusual offer to prospective opponent Tony Ferguson — he says that he will pay Ferguson $200,000 to fight him.
This comes on the back of UFC president Dana White saying that Ferguson has essentially turned down the fight with the Russian fighter by asking for an increase in pay to take the high profile match-up. White has stated that Ferguson has signed a contract and must honour its terms but 'El Cucuy' remains uninterested, citing several past precedents in which fighters have been awarded a contract with increased terms prior to the expiration of their current deal.
Ronda Rousey, for example, is said to have earned $3 million for her bout with Amanda Nunes at UFC 207, a significant renegotiation on the terms of the deal for which she had when she fought Holly Holm at UFC 193 in 2015.
Khabib Nurmagomedov, meanwhile, has been campaigning for a fight with Ferguson with the winner to challenge Conor McGregor for the UFC lightweight title. So adamant is he that the fight should take place, the Russian said on Monday's edition of The MMA Hour that he will personally pay Ferguson $200,000 to take the fight under the terms of his existing contract.
However, it appears that Ferguson isn't interested in the Russian's offer and says that fighters shouldn't be making internal deals with themselves to fight — saying intead that it's the UFC's job to pay their fighters.
"If you got Khabib willing to sacrifice his life and give me $200,000 of his own money to fight, something's wrong with that shit", Ferguson said to Ariel Helwani. "I'm not going to take his money, he's got a family, too, and he's got bills to pay. I'm not going after Khabib's (money), I want what's mine and to be compensated for what my numbers prove to be. So, let's go kids."
As for why the UFC appear hesitant to increase the terms of Ferguson's deal, particularly when he and Khabib are generally considered to be the two top contenders in the 155-pound fold, he is in the dark.
"I don't know why they're not paying me and then maybe we will get some answers", Ferguson continued. "But, I haven't had the opportunities they have. Over my last five fights I have only been on one pay-per-view (PPV) and all the rest have been on FOX Sports 1 cards, which limits my mainstream exposure, bro. Khabib has been on three PPV's and two UFC on FOX cards which draws much larger audience than Fox Sports 1 cards. There is nothing to suggest that Khabib draws any more than me. I haven't been given the same opportunities or exposure as Khabib. I don't belong to AKA or a big major sports program. I choose to do different things on my own. As far as compensation has, UFC has been known to change it over the history, and I'm just looking for them to get this thing going. Let's go UFC."
It's unclear exactly how this will pan out but it seems unthinkable that the UFC would pass on having a top contender match-up between Ferguson and Nurmagomedov, the winner of which would be the clear number one contender in the division.
At the moment, though, it seems as if we're witnessing a staring contest between Ferguson and the UFC brass. It remains to be seen who will blink first.
Comments
comments