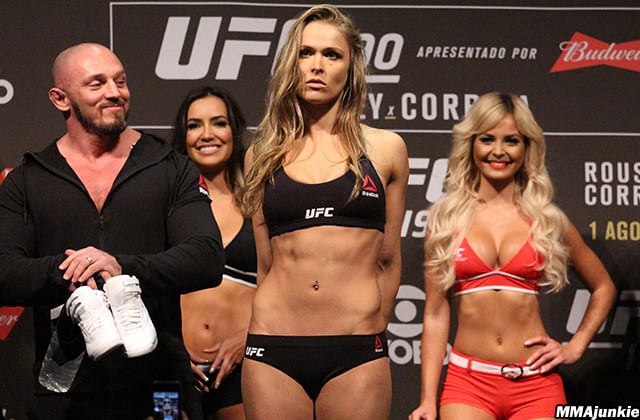 After 13 months spent on the fringes of the sport after her knockout loss to Holly Holm, Ronda Rousey's much-hyped return lasted less than a minute.
Rousey was dispatched with ease by current women's bantamweight queen Amanda Nunes and, if the result of the bout wasn't necessarily a surprise to many, the manner of it certainly was. Rousey, who has made a career of finishing opponents before even having an opportunity to break a sweat, looked like a fish out of water, incapable of withstanding the brutal barrage of blows aimed at her by the Brazilian slugger.
And now, the post-mortem begins. Commentators have been quick, as was Nunes herself, of laying a sizeable portion of the blame directly at Rousey's long-time coach Edmond Tarverdyan.
In her post-fight press conference Nunes was asked to explain why she put her finger to her lips and mimed a request for silence, going out of her way to aim the gesture in Tarverdyan's direction.
"I knew Rousey was going to strike with me, because she thinks it because her boxing coach told her she has good striking", said Nunes, owner of perhaps the most concussive fists in the history of the female 135-pound frame.
"[Tarverdyan] like put this thing in her head and make the girl believe in that. I don't know why he did that. She have great judo, and she can go far in this division, but he put some crazy thing about boxing, and her career started to go down. And if I win that, I am the real striker. This is the only thing I wanted to look at him, to say it."
Since then, further questions have been raised as Rousey's preparation for the bout by former UFC contender and current commentator Kenny Florian.
Speaking on the podcast he shares with Jon Anik, Florian suggested that so ill-prepared was Rousey for her bout with Nunes that she had neglected to spar effectively ahead of the facing the best striker her division.
"My understanding is that perhaps Rousey didn't really spar leading up to this fight," Florian said. "I get that they're trying to preserve her from getting hurt. But you've got to have some rounds. You've got to be ready for the worst case scenario, which is Amanda Nunes striking with you. She wasn't able to move her head, do anything defensively to avoid the striking skills of Amanda Nunes, and really paid for it."
Jon Anik agreed: "If she didn't spar at all, as we heard rumblings about after the fight, that's probably indefensible. We so applaud and laud people for scaling back their sparring, but you still have to do it to some extent."
The scaling back of hard sparring has been one of the more recent developments in mixed martial arts training. Robbie Lawler, the former welterweight champion of the world, credits his late career resurgence on his decision to cut back on the amount of damage he received in training.
John Kavanagh, too, has always been a proponent of 'flow sparring', where his fighters work on technique without seeking to land heavy blows on training partners or, as he describes it, "upgrading the software without damaging the hardware."
For Florian, though, the lack of improvement in Rousey's stand-up game was telling.
"She had 411 days to improve as a striker, and unfortunately for her, just wasn't able to get it done", he said. "There really was no difference in what she did against Holly Holm. There was no head movement. There was no variety, There were no angles."
There is still widespread speculation as to whether Rousey will ever return to the cage but there is a growing majority of analysts who suggest that, if she does make that walk one more time, Ronda Rousey will have to drastically alter the manner in which she prepares herself to compete at this, the highest level of mixed martial arts.
Comments
comments