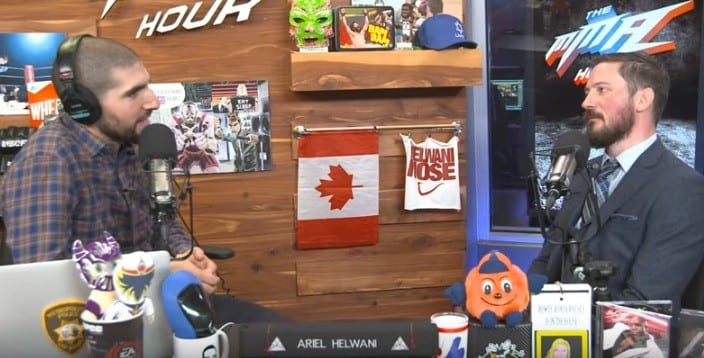 Throughout all of Conor McGregor's achievements this year, from rebounding to defeat Nate Diaz at UFC 202 and then becoming the first fighter in UFC history to hold two titles simultaneously, there has been one man in particular who stood behind him and that is John Kavanagh.
The coach who first opened the doors of SBG Ireland to a teenage Conor McGregor, a BJJ white belt with amateur boxing experience, has guided his student to becoming a top pound-for-pound fighter in the sport and one of the most recognisable figures in all of sports.
Little surprise, then, that given the year that McGregor has had and the history-making effort in the UFC 205 main event inside Madison Square Garden that Ariel Helwani, host of The MMA Hour, awarded Kavanagh the honour of 'Coach of the Year' on his annual awards episode on Monday.
"To me what [Kavanagh] did with Conor McGregor after the loss at UFC 196, how he handled it, the positivity, never losing faith, bringing him back in, the gameplan for UFC 202, then doing what they did for UFC 205, to me is what a coach should be", Helwani said.
"If you go back and look at the story of Conor McGregor, he was done with MMA and it was John and Conor's mother that got him back in. You see what he built at SBG, Artem Lobov's [recent performances], Gunnar Nelson had a great comeback this year and then nothing bigger than those two wins for Conor
"The way they were able to gameplan for the second fight with Nate, [they] changed the mistakes from the first fight — it was really impressive to watch. He's everything that a coach should be and, to me, it's everything about being a leader, being a role model and setting an example for your fighter and putting them down that right path."
Of course, Kavanagh isn't the only coach guiding McGregor's fight career and the likes of Owen Roddy, Sergey Pikulskiy and others deserve significant credit but as the figurehead of the team, it's Kavanagh who received the honour — and in typical fashion, he released a thank you statement on Twitter and, well, just have a look.
The ending wasn't quite as smooth… #TheMMAHour awards pic.twitter.com/zb5DKIcsgP

— Coach Kavanagh (@John_Kavanagh) January 2, 2017
Comments
comments