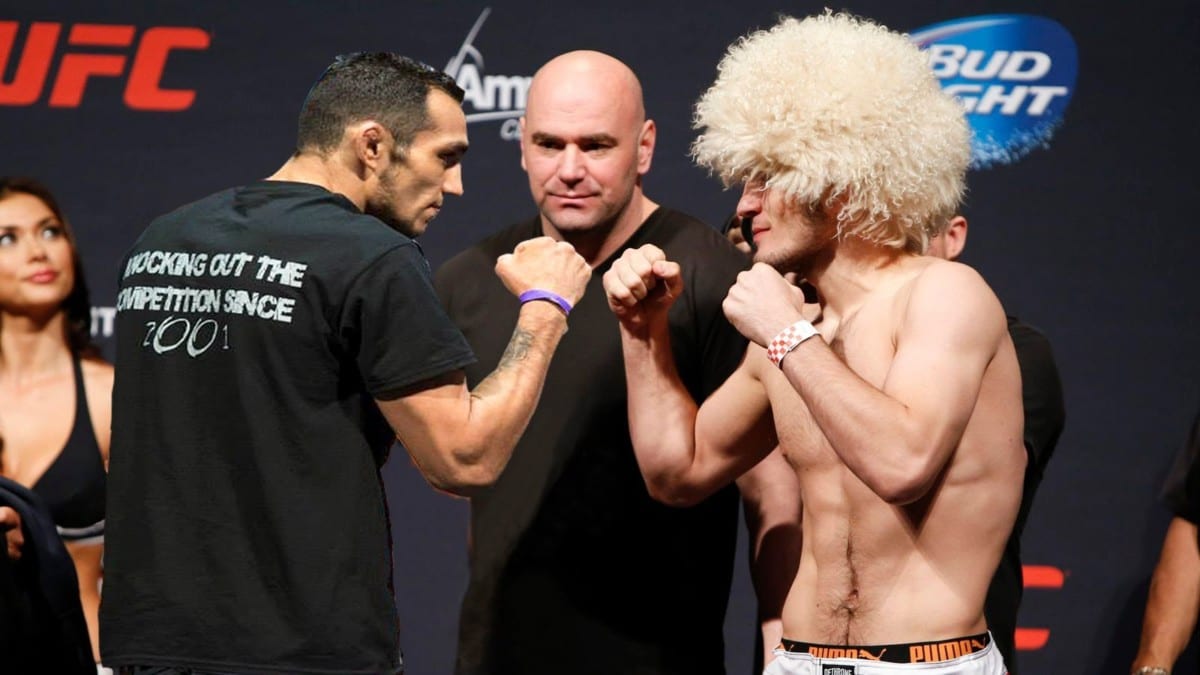 The UFC's lightweight division is an interesting place at the moment.
After Conor McGregor made history in New York and claimed the 155-pound belt, before announce his intentions to take a little break from the sport, the rest of the division's elite were left to battle out who would be ready for him when he returned.
At the top of that list were Khabib Nurmagomedov and Tony Ferguson, and as such, the UFC have set about trying to put the two of them together in a contest — although it's not been without it's complications.
For instance, Ferguson isn't willing to accept the fight unless the UFC pay him the same fee as Nurmagomedov will be. And in the words of UFC president Dana White: "that ain't happening."
For Khabib, he's only interested in proving his dominance at 155-pounds, and believes the only way to do so would at present is to face and defeat Ferguson. So, that's why when the UFC came to him with an offer to face Jose Aldo instead, he turned down the contest.
Speaking about the situation on MMAFighting's MMA Hour, the Russian went into detail about the negotiations currently underway, and what he's aiming to achieve in 2017.
"[Ferguson's] an interesting guy, he talk about "lets go, lets do this" but the UFC ask him let's go why not?" Nurmagomedov said, speaking on The MMA Hour. "I say hey let's go, March 4, I'm ready for this. But the UFC talk about he want to make money like me, but with me all Russia. Who with him? California? I don't think."
With Ferguson's holding out for more cash, Nurmagomedov even added a further incentive by taking to social media to offer $200,000 to take the contest — although Ferguson didn't bite.
Hey @TonyFergusonXT if the @ufc don't want to pay you I'll pay you 200k extra on your purse let's make this fight now you have no excuse

— khabib nurmagomedov (@TeamKhabib) January 2, 2017
Still, Khabib remains adamant it's the only fight that makes sense.
"The UFC play games, and I am tired about this," he said. "I want to fight the real guys. When I come to the UFC, when I was 2/3-0 in the UFC, all the time I asked [for] Nate Diaz, gimme Anthony Pettis, gimme Gilbert Melendez, all the time I talk about this top level fighters."
"If UFC don't want to give me title fight, give me number one contender; give me Tony Ferguson. Why I need fight with little guy? For what? I when I beat [Aldo], when I smash him and I make him tap, people gonna talk about 'oh this small guy, [Khabib] had to fight with Tony Ferguson'. That's why I want to take number one top level fighter."
And, with rumours of the UFC looking to put an interim lightweight title on the line (which is a decision to be discussed another time), Nurmagomedov has his year plan well sorted.
"I wanna first beat Tony Ferguson, take interim bullshit belt, and then after [that], fight with Conor for real belt. This is what I want."
Comments
comments