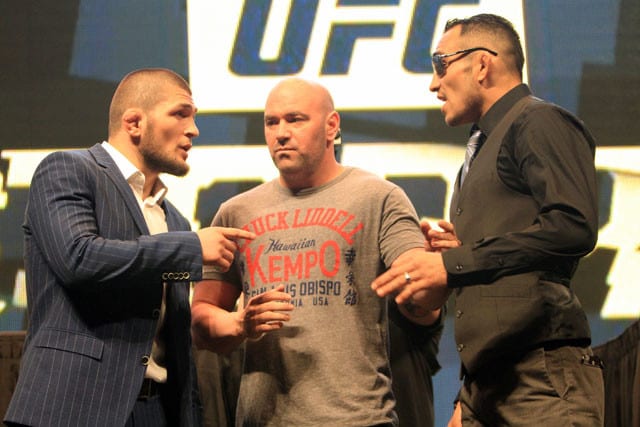 With Conor McGregor taking some time away from mixed martial arts with his impending fatherhood, the lightweight division has two men unarguably at the peak in his absence.
That would be Khabib Nurmagomedov, who currently sits with a 24 fight win streak that includes a recent pasting over Michael Johnson, and Tony Ferguson who himself is undefeated in nine fights.
The two were actually scheduled to face each other back in December 11, 2015 at The Ultimate Fighter 22 Finale, but Nurmagomedov was forced to withdraw through injury. Now, with McGregor out of the picture until a rumoured return of next summer, it seems both men are ready to settle the score.
"All bullshit aside, the guy is a whiny bitch," Ferguson said about Nurmagomedov on The MMA Hour. "He can whine as much as he wants to."
While Nurmagomedov has made no bones about the fact he feels he deserves championship gold — indeed, the Russian only wants to face Ferguson if an interim title is on the line — Ferguson is far less interested.
"Instead of people saying, 'hey, you need to go for the belt,' or, 'you need to do this, you need to do that', me, I'm waving my little finger in the air and I fucking keep moving forward," Ferguson said. "I'm going to keep doing what I'm doing, which is taking care of my family and training my ass off. And that translates into winning and getting Performance of the Night bonuses.
Right now I got, what, eight finishes out of 12? I'm on a nine-fight win streak. I'm what, 22-3? Shit, where's my title shot, man? I'm not complaining, I'm not saying nothing, because I know it's going to come to me."
All being that being said, if the opportunity to face Nurmagomedov comes with an interim belt attached, Ferguson won't be saying no.
"Like I said before, I'm not going to rob him of an ass-whooping. He does deserve one from my hands," Ferguson said. "Who else is he going to fight? He wants to fight for a belt [Eddie] Alvarez ain't going to fight him.
"Come on, dude. That dude's been running from me for a long time. He hasn't wanted nothing to do with me. His pops was like the first one to say, 'yeah, my son will fight you,' and Khabib's running the other way. He's calling Conor a chicken and Khabib is running from me, I'm calling him a chicken. So it's a trickle effect, man. I'm telling you, everybody is scared of the Bogeyman at the end."
Comments
comments