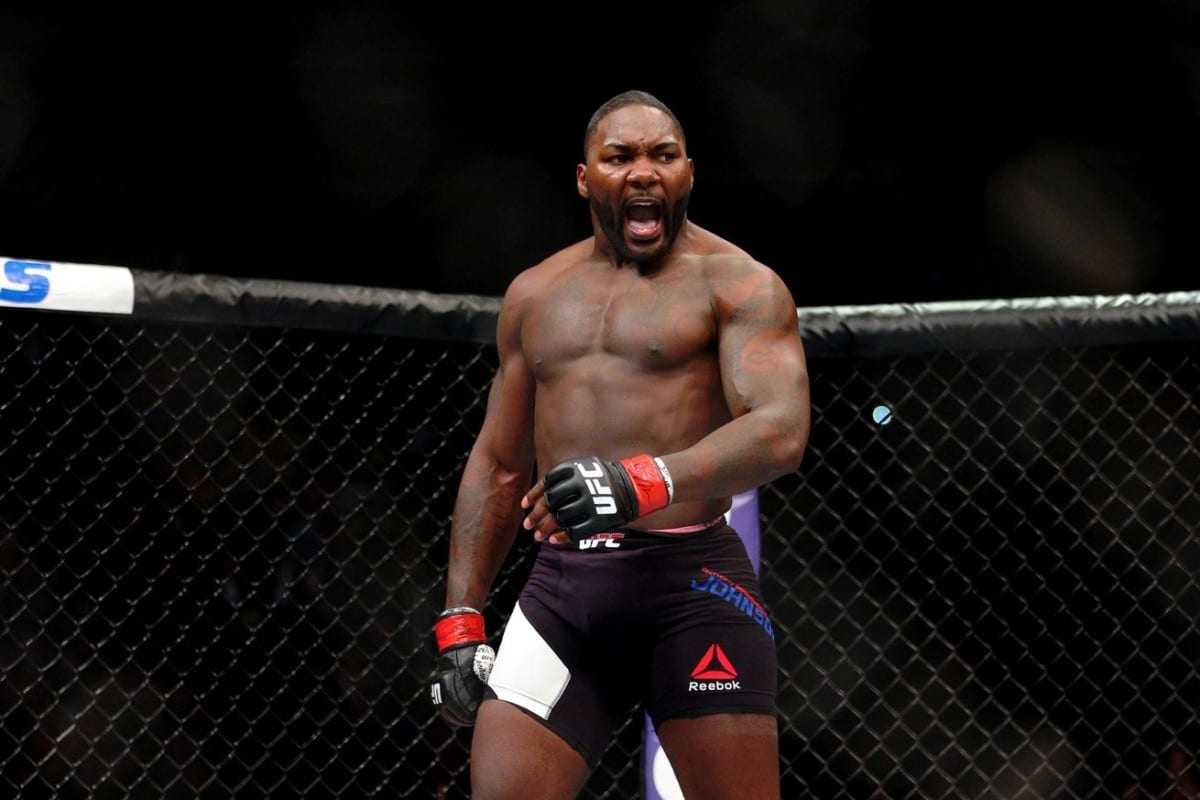 When UFC light heavyweight champion Daniel Cormier was forced to withdraw from UFC 206 with an injury, it didn't take long before opponent (and fellow headliner) Anthony Johnson heard about it.
"You know how it is, word spread like a disease, like the plague," Johnson said, speaking with Fox Sports. "I hit up my manager and I was like 'I heard DC was hurt'. I texted Dana [White] but Dana didn't say nothing. He got back to me the next day but by that time it was already too late. It had already got confirmed what it was. My manager had texted me back after like an hour and said 'yeah, he's out'."
While most would have been angered or saddened by the bouts cancellation, particularly when so much was invested, (UFC 206 was supposed to be Johnson's second shot at the 205-lb title, as well as redemption against the last man he lost to), but in actuality Johnson wasn't either of those things.
"I just see it as a blessing," he said. "Things happen whenever they're supposed to. I'm not stressing about it. I did train hard for this. I trained really hard for this. I was probably in the best shape I've been in a long time. I was in sick shape. I felt amazing."
Although, it was perhaps slightly easier to feel okay with the situation when his opponent reached out and directly contacted him.
"He called me. Much love to DC. Not many fighters will call you and say 'I apologize'," Johnson said. "DC was a real man and called me and apologized and then apologized on Twitter. I haven't really been signed into Twitter and I haven't been on social media much preparing for this fight, but when I signed into Twitter, I saw his message to me. That was mad respect from him to do that.
"I was fine with it. It wasn't like he pulled out just to be pulling out cause he needed more time to prepare," Johnson said. "The man was actually hurt so I didn't have any ill will towards him because of that."
While the main event of UFC 206 has now been confirmed with Johnson not involved, there were plenty of rumours that the heavy-hitting number one contender had been offered several belts to stay involved. For 'Rumble' though, none of the names pitched to him meant it was worth the risk staying involved. After all, should he have lost, it would likely have meant his title shot against Cormier would disappear.
"They offered me Gegard [Mousasi] and nothing against Gegard but fighting him means nothing," Johnson explained. "He's an [185]-pounder, former light heavyweight fighter, he's good, he's tough and some of my guys were like that's an easy fight. Other people I know were saying that's an easy fight I should take it. But Gegard ain't no punk. The man can fight. I think people don't realize how good he really is, but besides the point, it was pointless for me.
"If I go out there and fight him and win, it means nothing. I'm the fake champ. That's really what the interim champ is. He's the fake champ and if I lose, I start from scratch, I lose everything. I'm not going to take that chance. I said I'll wait and take my chances on DC but I've got some things in mind, I might try and do at different weight classes."
So, while Johnson isn't interested in facing men who are usually found in weight-classes below his own, he is open to challenges that perhaps come from the bigger side of thee scale?
"Yeah. I'll fight heavyweight. If it's a fun fight, I'd definitely try it out," Johnson said. "I always said I was going to go up to heavyweight in the UFC before I retired anyways. I might as well try it out if I get the opportunity. There's some good heavyweights out there. Those boys are big, so I'm definitely taking a big risk and a big chance fighting those guys. I look forward to the challenge.
"If I fight, it has to be at heavyweight because at 205, it's just not worth it."
As of yet, there is no fixed date for Cormier's return, although it has been speculated that he'll be available in the earlier part of next year.
Comments
comments