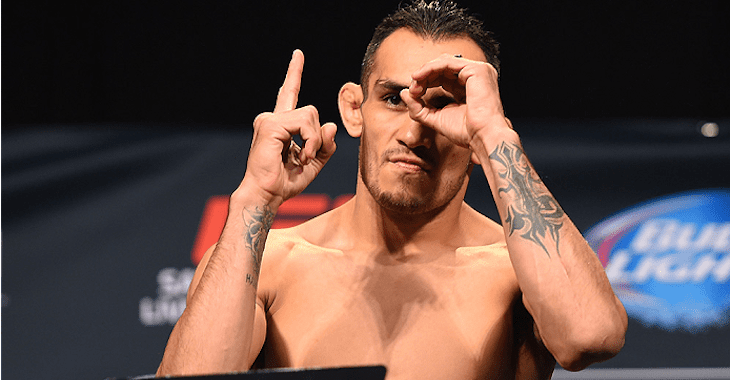 Tony Ferguson is an interesting character.
Often seen wearing huge sunglasses inside, offering brash one-liners and caring about the opinion of no one, the 32 year old is one of MMA's loudest and proudest fighters. As we often see with such personalities, alongside big statements comes big ambition.
Ferguson, who defeated former lightweight champion Rafael Dos Anjos on Saturday night, is likely next up for a title shot at 155-pounds. According to him, it's just the first of many.
"I'm here to win," Ferguson said in a post-fight scrum with MMAJunkie. "There are two other divisions I would love to be able to go into. I made 153 pounds at the weigh-ins. I weighed in with pants on. I can go down to 145. I can kick everyone's butt there. I can bump back up to 155, knock everybody out and finish them and you're damn sure I can go to 170 and do the same thing. I want to be a multi-division champ."
After defeating Dos Anjos, Ferguson was given the microphone and — contrary to what everyone expected — simply walked away from an opportunity to stake his claim for a title shot.
Next week at UFC 205, the title he'll be challenging for is to be on the line between Conor McGregor and Eddie Alvarez. While most would assume it's a bout not to be missed, Ferguson insists he cares not.
"I hope they knock each other out," he said. "Plain and simple. I really don't care. I've got other things to worry about than watching that fight."
While 'El Cucuy" might not be paying attention, many others will be, with UFC 205 set to be the biggest event in MMA history. It takes place this Saturday, November 12.
Comments
comments