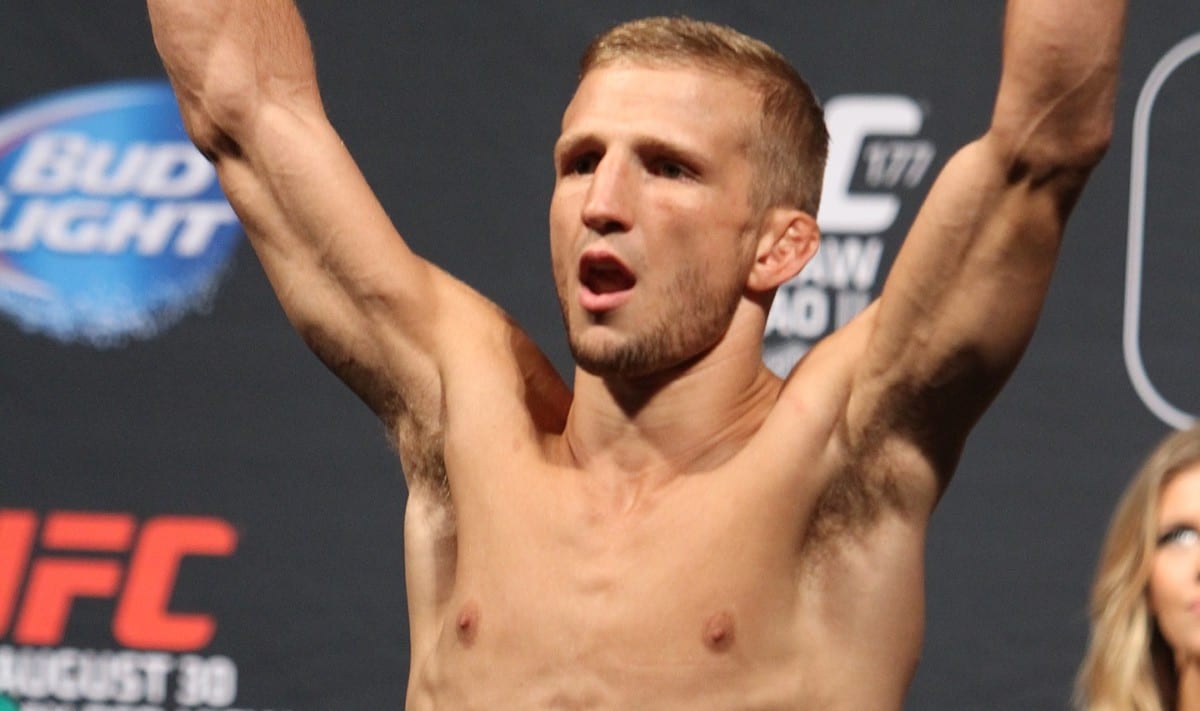 When Dominick Cruz defeated T.J. Dillashaw in January of this year, it was about as razor thin a decision that can be found in the sport of MMA. In the aftermath, it appeared as if a rematch would be inevitable, particularly with the bad blood between the two.
Instead, as Cruz went on to face and defeat rival Urijah Faber, while Dillashaw fought and beat Raphael Assunção in a three round decision win. Following that, it seemed the second fight would finally happen — until Dominick Cruz vs. Cody Garbrandt was announced for UFC 207.
For Dillashaw, the announcement wasn't just upsetting because he had lost out on a title shot, but also because he felt the UFC had started to warm up to his public campaigning.
"I even reached out to Dana and said 'I'll do whatever I need to do'," Dillashaw said, speaking on MMAFighting's The MMA Hour, Monday. "Because we were renegotiating my contract and I said 'look, more important than getting my contract, and renegotiating it[…]I want the title fight', because that's more important to me than anything in the world. Me being known as the champ, as the best in the world is the most important to me, because that's why I got into this.
"After I had my meeting with him, he told me to give him a call. I never got a response back.
"He wouldn't call me back, he wouldn't get a hold of me, he wouldn't tell me if I was getting the title shot. He wouldn't say anything, and then eventually I find out from social media that Garbrandt was getting [the title shot]."
Due to that repeated back and forth with the UFC President, the manner in which he discovered he had missed out on the Cruz rematch particularly wrinkles.
"I kind of felt a little disrespected and lied to my face about it," he said. "It would have gone over easier if he had just told me from the beginning that I wasn't getting the fight instead of looking like a jerk, trying to create a bunch of drama trying to get this fight.
"Just to kind of be pushed aside like that, and to find out on social media like that is really disrespectful. I'd like a phone call, I'm a previous UFC champion, I've taken fights on one days notice."
Recently Dillashaw made headlines in the news when he was a part of the five fighters announced as part of the latest fighter association, the MMAAA. A part of that, as he said during the announcement, was to try and equal out the manner in which the sport is heavily favoured towards the UFC.
Because, according to Dillashaw the promotion doesn't respect the fighters who respect them.
"The more team UFC you are," he said, "the worse you get treated, it seems like."
Comments
comments